Image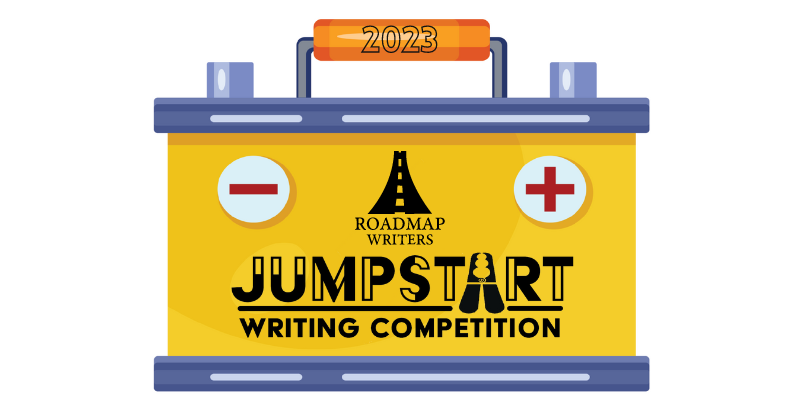 2023 JumpStart Writing Competition
This competition is open to both features and TV pilots of all genres.
Roadmap Writers is a leader in screenwriting education and training taught by working industry executives & literary representatives. In just seven years, Roadmap has helped over 300 writers get signed to representation with agents and managers. We helped some of last year's finalists land representation at Paradigm, Echo Lake, 3 Arts, Bohemia Group, Lit Entertainment Group, and REJ Entertainment through our introductions! 
Since our JumpStart Competition is an excellent way to vet writers, we are starting to market high-scoring scripts before we even announce contest placements! This will help even more writers get their work in front of execs than ever before. 
Roadmap is thrilled to have assembled this esteemed judging panel of executives and representatives.
42 Management & Production I Doorie Lee, Manager
42 Management & Production I Michelle Knudsen, Manager
Good Fear Content | Scott Stoops, Partner & Manager 
Gramercy Park Entertainment | Mitchell Bendersky, Manager
Grandview | Brennan O'Donnell, Manager
Heroes and Villians Entertainment | Chris Coggins, Manager
"LACE" | Katrina Nelson,  Co-Creator, Showrunner 
Odenkirk Provissiero Entertainment | Josh Roemer-Ingles, Manager
Writ Large | Nadya Panfilov, Manager
Lit Entertainment Group I Raquelle David, Manager
Lit Entertainment Group I Kendrick Tan, Manager
Roadmap's JumpStart Competition isn't an ordinary screenwriting contest! 
JumpStart is a talent discovery competition with judges who are working industry professionals, including execs and reps. 
Roadmap provides ongoing career support for our winners (writers who get into the Top 25 or HIGHER). 
Since our prizes don't expire, we will continue to help promote our winners, i.e. get their material in front of execs and reps for as long as they need... even over several years!
We market high-scoring scripts no matter where they place! And as always we let you know exactly who we reach out to and who requests your material. #FullTransparency. Until the strike is resolved, we will only be marketing to reps. 
Image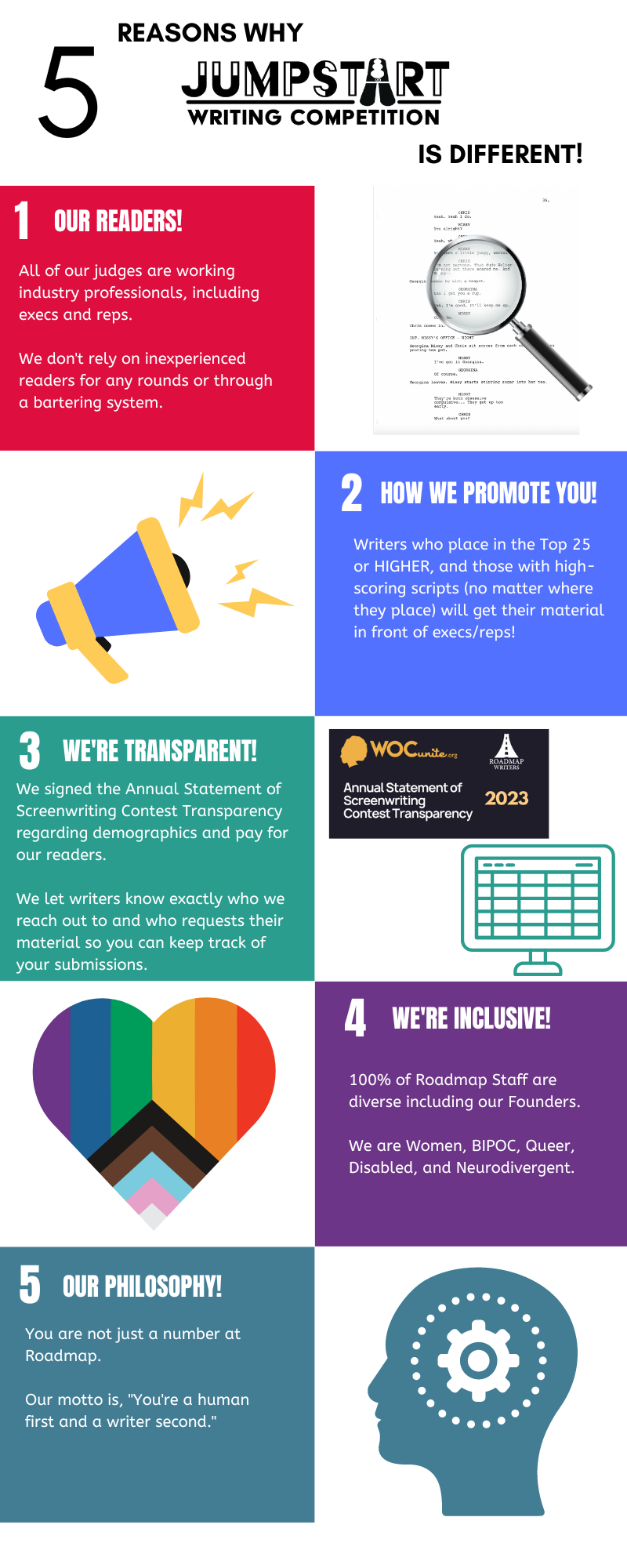 From a past winner, recently signed by Wonder Street:
Image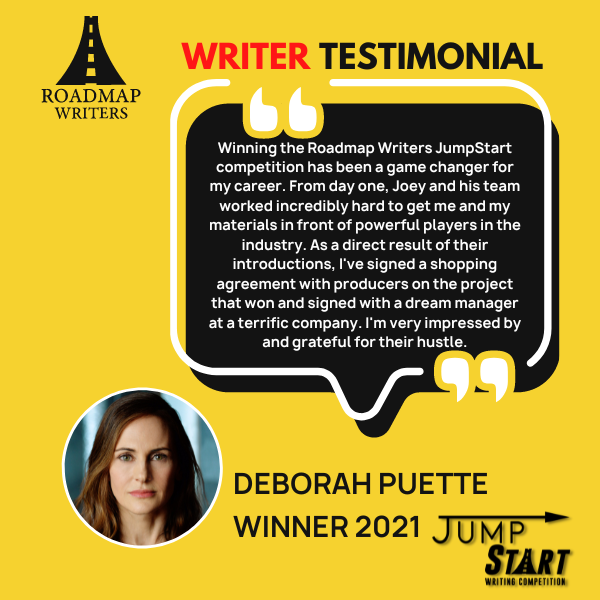 "Winning the Roadmap Writers JumpStart Competition has been a game changer for my career. From day one, Joey and his team worked incredibly hard to get me and my materials in front of powerful players in the industry. As a direct result of their introductions, I've signed a shopping agreement with producers on the project that won and signed with a dream manager at a terrific company. I'm very impressed by and grateful for their hustle."
 - Deborah Puette, a Grand Prize Winner of the JumpStart Competition
ENTRY PRICING & DEADLINES:
---
Competition Opens | August 2nd, 2023
Early | September 1st, 2023 | $50
Regular | October 1st, 2023 | $70
Late | November 1st, 2023 | $80
Extended | November 2nd, 2023 | $80

Add Feedback Notes | +$45
Receive a one-page analysis of your script.'
*All  Feedback Notes will be returned within 7-10 business days of the Top 50 announcement date*
ANNOUNCEMENT DATES:
---
Quarterfinalists | December 2nd, 2023
Semifinalists | January 2nd, 2024
Finalists | February 5th, 2024
Winners | March 4th, 2024
*Dates subject to change
GRAND PRIZE WINNERS:
---
There will be 2 grand prize winners, one for each category (features and TV pilots).
6x private virtual meetings with industry executives and/or competition judges
A private Month Mentorship with an executive of your choice from Roadmap's list of available execs
Steps 1 & 2 of Roadmap's Career Writer Program (Pitch Prep Program and Marketing Intensive)
5 free Open Pitch Sessions
12 months of Roadmap's "Industry On-Ramp" Program
A 30-Minute Marketing & Strategy Call with Roadmap's CEO
Featured in our JumpStart Competition Booklet, circulated to over 400 execs
See below for our full list of placements and prizes!
JUDGES:
---
Roadmap is thrilled to have assembled this esteemed judging panel of executives and representatives.
42 Management & Production I Doorie Lee, Manager
42 Management & Production I Michelle Knudsen, Manager
Good Fear Content | Scott Stoops, Partner & Manager 
Gramercy Park Entertainment | Mitchell Bendersky, Manager
Grandview | Brennan O'Donnell, Manager
Heroes and Villians Entertainment | Chris Coggins, Manager
"LACE" | Katrina Nelson,  Co-Creator, Showrunner 
Odenkirk Provissiero Entertainment | Josh Roemer-Ingles, Manager
Writ Large | Nadya Panfilov, Manager
Lit Entertainment Group l Kendrick Tan
Lit Entertainment Group l Raquelle David
RUNNERS UP (2):
1 feature and 1 TV pilot
3 virtual meetings with industry execs
1 year of Roadmap's "Industry On-Ramp" Program
3 Free Open Pitch Session credits. Choose to pitch to execs or reps
One 60-Minute Group Strategy Webinar with an industry executive 
30-Minute Marketing & Strategy Call with Roadmap's CEO
Logline and bio featured in our JumpStart Competition Booklet, circulated to over 400 execs
FINALISTS (10):
5 features and 5 TV pilots
1 virtual meeting with an industry exec
3 months of Roadmap's "Industry On-Ramp" Program
1 Free Open Pitch Session credit. Choose to pitch to execs or reps
One 60-Minute Group Strategy Webinar with an industry executive 
15-Minute Marketing & Strategy Call with Roadmap's CEO
Logline and bio featured in our JumpStart Competition Booklet, circulated to over 400 execs
SEMIFINALISTS (50):
25 features and 25 TV pilots
1 month of Roadmap's "Industry On-Ramp" Program
One 60-Minute Group Strategy Webinar with an industry executive 
Featured on Roadmap Writers website
Logline and bio circulated to over 400 execs we work with
QUARTERFINALISTS (100):
50 features and 50 TV pilots
One 60-Minute Group Strategy Webinar with an industry executive 
Featured on Roadmap Writers website
Logline circulated to over 400 execs we work with