Image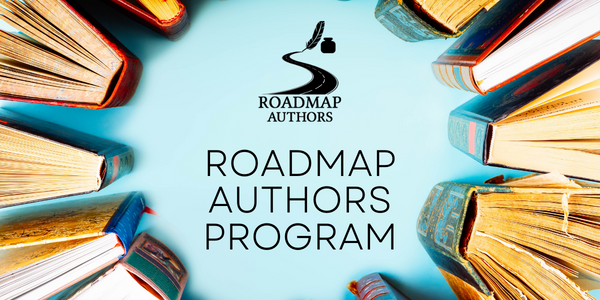 WHERE ARE YOU IN YOUR PUBLISHING JOURNEY?
Looking to make more industry connections?

Have a manuscript and want to map out your next steps?

Been querying with limited results?
 
Ideally, Authors should have a polished manuscript and strong pitch/query ready to go, but even if you don't, and no matter what stage you're in, our sister service, has you covered.
 
The Roadmap Authors Program helps authors (across all genres) achieve your career goals across the book business. We offer exclusive opportunities to workshop your query, pitch, and manuscript with a variety of agents, editors, and publishers, in both private and roundtable settings. 

Our mission is to get you signed with a book agent
and set you on the path to getting published!
Here's what the program includes:
1x 30-MINUTE MARKETING CALL with Roadmap's CEO, Joey Tuccio. During this call, Roadmap and the author will discuss what companies could be right for their manuscript, what their goals are and actually coming up with a plan to position their manuscript in the marketplace. 

TARGETED MARKETING EMAILS: You submit 50+ target companies and Joey will email a selection of execs on your behalf that Roadmap has relationships with.

1x Pitch with an exec interested in book-to-film projects.
Image
Are you looking to consult with a publishing industry professional on your manuscript?
Submit the first 60 pages of your book plus a 1-2 page book proposal (if applicable) and receive an in-depth, one-hour private story notes call with the executive of your choice. You'll receive specific advice on how to elevate your book's prose, pacing, characterization, tone, and marketability. See Available Execs!
---
TESTIMONIALS
 
"After attending writers conferences and taking a variety of writing courses by other companies, I can tell you that Roadmap offers the best opportunity for connecting with professionals within the publishing industry. As any emerging writer knows, the process of sending out query letters to publishing agents is a painful process full of rejection...or crickets. Roadmap's Author Program put me in the "room" with agents so I could pitch, interact, and receive feedback which ultimately led to gaining representation. Through the Roadmap Authors Program, I was introduced to my wonderful agent, Renee Fountain. If you're interested in moving faster than the molasses-slow process of sending out queries and are sick of filling out long forms with too many text boxes on QueryTracker, you owe it to yourself to check out Roadmap Authors."
- Craig Holland, Author (Signed with Gandolfo Helin & Fountain Literary Management)
 
"Working with Roadmap has been a real pleasure and a treasure trove of good writing. I attend many writers' conferences and workshops and have gotten lots of pitches. I find that the authors who have been vetted and referred to me by Roadmap are very talented, much more than at other venues. I have signed one author who I met through Roadmap and submitted her work to publishers. But there have been many more who have the talent that I am looking for but rarely find. I hope to be doing more work with Roadmap in the future."
- Andy Ross, Agent
"I am highly impressed by Roadmap and the way they come alongside writers to help them hone their craft. Roadmap has a great program set up, and that any writer would benefit from the feedback and training they get."
- Megan Burkhart, Agent at Cyle Young Literary Elite
---
Learn to navigate the publishing industry with focused, personal training and attention that will ensure your projects, pitches, and collaborative ability are at their best!
 
What makes Roadmap different?
We focus on quality of education rather than quantity of numbers in our programming. We pride ourselves on getting to know each writer individually and doing our best to develop programming that will cater to their individual needs. Because it takes so much investment, time, and care to champion and launch a writer's professional career, we focus our work on Career Writers over hobbyists. Roadmap is the only writing organization that has a fully guided step-by-step program that will help you build an incredibly strong foundation for lasting career success. Each program is taught by passionate working editors, agents, and other execs with a proven track record.
Who teaches our classes?
Our instructors are all working executives and industry professionals from the publishing and literary world. By learning from working execs, you are able to benefit from their real-world, hands-on experience and knowledge of the current marketplace. We have relationships with a number of top companies in the industry and work with executives that are highly vetted and genuinely invested in helping authors grow.
Where do our classes take place?
Our programs take place 100% online (most utilize video conferencing software ZOOM). You can participate from anywhere in the world! The only requirements are a camera, a microphone, and a decent internet connection. The online classroom also provides high-quality recordings of each class so that you can review the session at a later date.