Image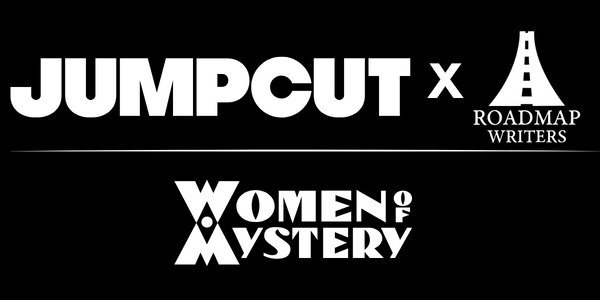 Women of Mystery 7-Week Writers Room + Pitch Competition!
Roadmap Writers is pleased to announce an exciting partnership with Jumpcut Media, an entertainment-tech company currently producing projects with Disney+, Amblin, Lawrence Bender, and more. Investors include WME, Atomic, and A-Rod (NY Yankees' Alex Rodriguez).

Jumpcut's mission is to democratize Hollywood by giving storytellers creative and financial co-ownership in their stories and by providing access and opportunities for underrepresented voices.

Jumpcut is launching Women of Mystery (WoM)—a collective that incubates stories centered on women and other underrepresented groups to produce comic books, graphic novels, TV series, films, novels, and podcasts.

Powered by blockchain technology, access passes open a writers room experience of creative quests, online community, and educational workshops with amazing writers and producers.
A WoM access pass is your ticket into the inaugural 7-week Writers Room that starts on October 31st, which includes:
BRING your ideas to life as part of a comic book or screenplay, created collaboratively with your fellow WoM members.
LEARN how to develop, pitch, and sell IP through quests and resources curated by our story architect Winnie Kemp (Head of Development for Jumpcut), who will make all final story decisions like a showrunner.
ATTEND (optional) Fireside chats with established writers and producers: 

Mark Goffman (THE UMBRELLA ACADEMY, BULL, LIMITLESS, ELEMENTARY, SLEEPY HOLLOW, LAW AND ORDER: SVU, THE WEST WING)
Charmaine DeGraté (DAISY JONES AND THE SIX, HOUSE OF THE DRAGON, THE 100, CHAMBERS)
Evette Vargas (DARK PROPHET)
Scott Rosenbaum (VIVA LA MADNESS, QUEEN OF THE SOUTH, GANG RELATED, V, CHUCK, THE SHIELD)
Stephanie Smith (LORE OLYMPUS, THE CONTINENTAL [JOHN WICK SPINOFF], CARNIVAL ROW, GENIUS [ARETHA])
Rebecca Hanover, NYT bestselling writer (THE SIMILARS)

PITCH your original material in our Pitch Competition, available ONLY to WoM members, with winners' projects to be packaged by Jumpcut Media and its partners (including WME).
JOIN a community of creators and thought leaders from a broad spectrum of industries and backgrounds united by the mission of inclusive storytelling.
How much time will I need to commit?
There is no required time commitment. We recommend setting aside 1-2 hours per week. Every week, you will be given story quests that can be completed on your own time—ranging from something as simple as voting on story direction to pitching your own characters and story arcs.
Scheduled fireside chats and other community events are also an important part of the experience and will be announced in advance, although attendance is not required.
Why this program?
What differentiates WoM from a traditional Hollywood writers room is that the writers at the table get to own their work. The more you contribute in the WoM writers room, the more points you receive—and these points will not only earn you equity in the IP being created in perpetuity, but also unlock perks (think exclusive access to Hollywood talent, career advancement opportunities, events and more!)
How does the equity work?
Jumput will leverage our strategic relationships with WME, studios, and producers to package WoM-incubated IP into Hollywood formats and negotiate deals on behalf of all WoM access pass holders. For any revenue that the WoM-incubated IP generates (e.g. comic book sales), Jumpcut will first deduct direct costs (e.g. production costs of the comic book) and then share 25% of the profit with the community. Each individual holder's equity percentage will be commensurate with the points earned through writers room contributions.
Image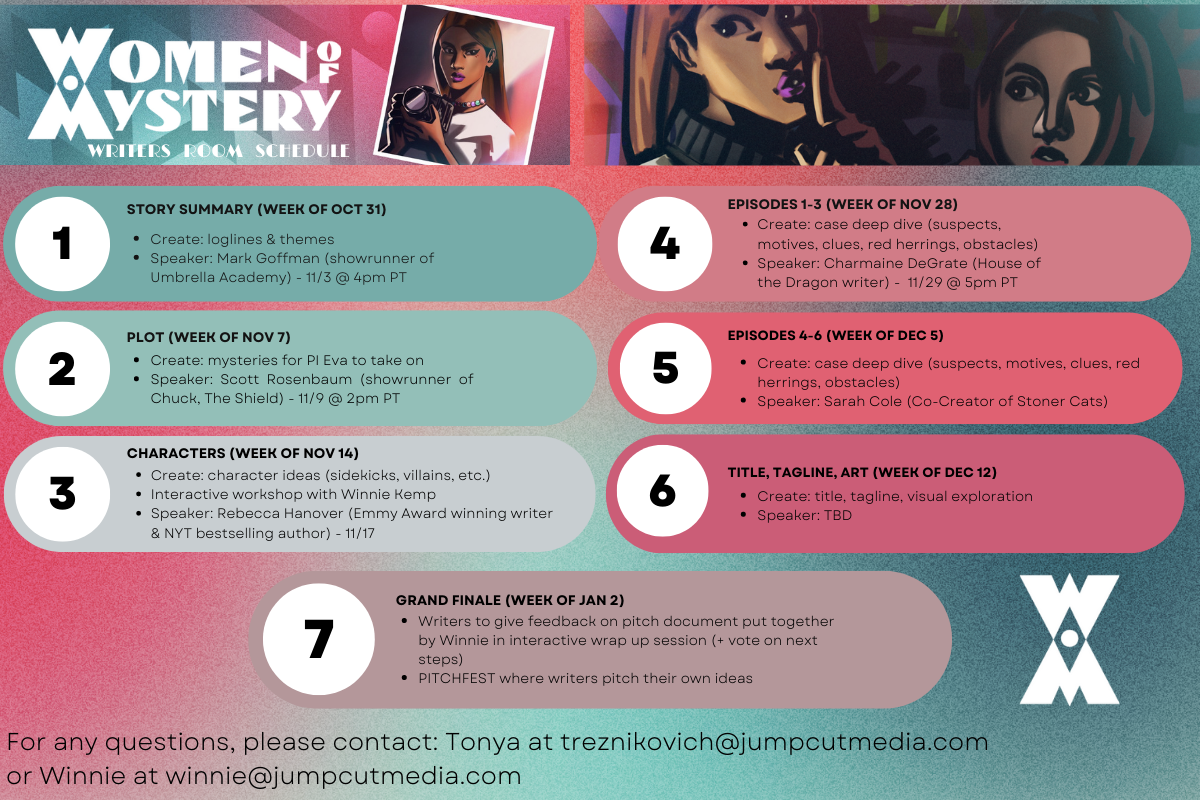 Who is this for?
• WoM is for all humans—whether women, non-binary, or men—who want to create and innovate together as a community.
• We welcome anyone who wants to support the development of women-centric IP that will be turned into novels, podcasts, comic books, films, and TV series.
Through a series of writers rooms, pass holders work on stories, characters, and concepts that are important and interesting to them—while building equity participation in the IP and learning from established Hollywood professionals. 
 
ENTRY FEE: 
The price is 0.065 Ethereum, which is approximately $83-95 USD
(prices fluctuate with the exchange rate).

YOU CAN PAY VIA CREDIT CARD!
Here's a recorded walkthrough of the checkout process!
Directions:
-Go to our link, click Don't Have a Wallet, then click Continue with email, Submit.
-Check Your Email and open one from Paper (that's the company).
-You'll get into the checkout process where you can pay with Google Pay or Add Your CC#. Hit Complete.
-Make sure to click Share My Email, the Enter same address, Submit. Done! 

DEADLINES:
Sales close on October 24th at 9am PT. Hurry! Program starts October 31st.
FULL FAQ HERE!

If you have any questions, feel free to contact the wonderful Yvonne Liu from Jumpcut.
Image


ABOUT JUMPCUT MEDIA:
Jumpcut Media is the team behind WoM. We are an entertainment-tech company currently producing projects with Disney+, Amblin, Lawrence Bender, and Scott Rosenbaum. The team's previous projects include the first TV show to star a Native American lead (Netflix) and the first show created by deaf writers (Sundance Channel). Jumpcut is backed by Atomic, WME, A-Rod, and other leading Silicon Valley and Hollywood investors.
Image

ROADMAP WRITERS:
Roadmap Writers is a leader in screenwriting education and training taught by working industry executives & literary representatives. In just six years, Roadmap has helped more than 270 writers get signed to representation with agents and managers. Through our educational programs and competitions, Roadmap has directly helped writers sign with companies including CAA, APA, Gersh, 3 Arts, Circle of Confusion, Gotham Group, Zero Gravity, Good Fear, Echo Lake Entertainment, and many more!