Image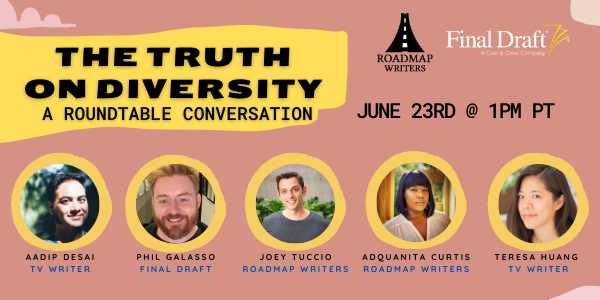 The Truth on Diversity - Free Roundtable Event
Wednesday, June 23rd at 1pm PST

Without question, raising awareness for diverse writers and diverse stories are bigger than ever. For example, there has been a boom in diversity initiatives, fellowships and competitions focused on spotlighting new voices.
The term "diversity" is used all the time, but what is the industry actually doing to a make change?
Are changes really being implemented? Which diversity initiatives truly care about diverse writers? What is considered diverse and is it the same everywhere? As a diverse writer, what should you look out for when entering initiatives? For non-diverse writers, what does this movement mean to you?
This eye-opening webinar will peel back the curtain on what the industry is actually doing to promote diverse writers and what the industry is not doing. The boom to promote diverse writers is becoming a renaissance and reckoning in Hollywood, but what you are seeing might not be the whole story. That's where this webinar comes in.
Buckle up, hang on tight, and get ready for the truth.
Image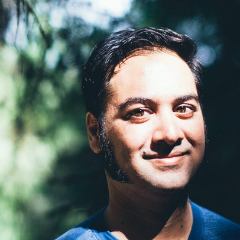 Aadip Desai is an Indian American television writer, Air Force Brat, BAFTA Breakthrough Artist, and serial killer of sideburn trimmers. He has written on The Goldbergs, Mira Royal Detective, and two super-secret Netflix shows. Aadip is an Advisor at the Sundance Institute and runs the 17k-member LA TV Writers Facebook Group. Before breaking in, he attended AFI's MFA in screenwriting but left early to join the Disney TV Writing Program. Ever the writing nerd, Aadip co-hosted and produced the On the Page screenwriting podcast with Pilar Alessandra and "Presidented" the Northwest Screenwriters Guild.
Image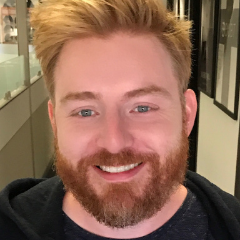 Phil Galasso is Sr. Director Brand & Marketing for Final Draft, the industry standard screenwriting software. His duties include overseeing Final Draft's marketing, partnerships & sponsorships, and diversity initiatives. He also hosts the screenwriting podcast Write On. Phil grew up in New York idolizing filmmakers like Spike Lee and Martin Scorsese. As such, he studied film and television at NYU's Tisch School of the Arts before moving to Los Angeles, where he now resides with his girlfriend and three cats. 
Image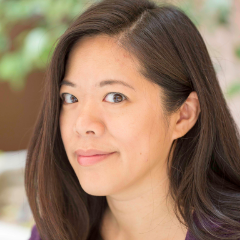 Teresa Huang was raised to be a doctor but born to be an artist. A genuine MIT graduate, she gave up problem sets and thermodynamics to become a writer, actor, and producer. Her parents are still scratching their heads. She is a graduate of the CBS Writers Mentoring Program, the CAPE New Writers Fellowship, and was named a WGA TV Writer Access Project honoree. She was a Story Editor on MACGYVER on CBS and is currently an Executive Story Editor on SEAL TEAM on CBS.
Her superpowers include power napping, parallel parking, and spending too much money at farmer's markets.
Image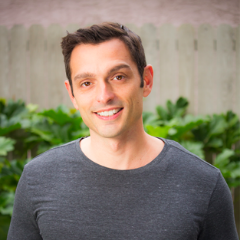 Joey Tuccio is the CEO of Roadmap Writers, an educational hub for writers. Before starting Roadmap, Joey worked at Bold Films and read for both Hugh Jackman and George Clooney's companies. He founded Roadmap Writers with the aim to bridge the gap between fresh, talented voices and industry execs who can make things happen through educational programs. In just three years Roadmap has helped more than 176 writers get signed to places like Circle of Confusion, APA, Gotham Group, Gersh and more. Roadmap has also partnered with the WGA and the PGA on Gender Diversity Initiatives. Joey is also incredibly active and passionate about rescuing dogs.  
Image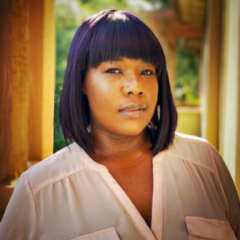 Adquanita Curtis ventured west to pursue an MFA in Screenwriting, which she earned from California State University, Northridge, in 2019. She has worked on a variety of indie projects, served as a creative consultant on Carl Jones' animated series Sugar and Toys, and as the writers assistant for Time Magazine's virtual reality project, The March. When she's not sending feedback reports, Adquanita can be found at Bath & Body Works stocking up on lotion, dancing through grocery aisles, or debating with Joey about Rupaul's Drag Race.