Image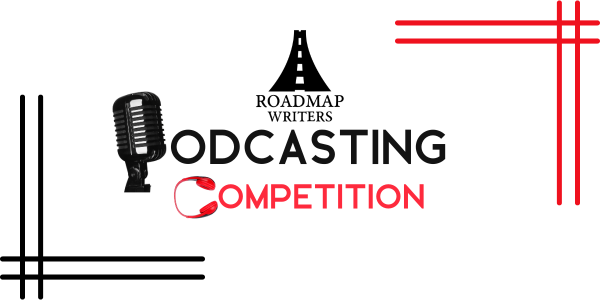 2023 Roadmap Podcasting Competition Deadlines
Open for Submissions | September 8th, 2023 at 12:00pm PT
Early | October 6th, 2023 | $35
Regular | November 3rd, 2023 | $40
Late | December 1st, 2023 | $45
*Submissions must be submitted online by 11:59 PM PST on the deadline date to be eligible for the corresponding deadline*
---
What is Narrative Fiction?
Narrative Fiction podcasts are an emerging medium of storytelling in which the story is told completely through the audio medium.  Fiction Podcasts are scripted, serialized stories that serve as a revival of the radio play. A fiction podcast can be any genre (sci-fi, horror, drama, adventure, etc.) as long as it is scripted.
---
What is Narrative Nonfiction?
Narrative Nonfiction podcasts retell the true stories of others through the use of clips from the interviewee, as well as layer on their own editorializing of the stories at hand.
---
What is the difference between a screenplay and a podcast script?
The main difference between the two is the medium for which the story is intended. Considering the focus on audio rather than visuals, you shouldn't describe character movements or anything that cannot be "heard" by a listener, but instead detail sound direction and audio cues that help to tell the story.
---
What format should I use?
There is not a podcast format that has become standard in the industry yet. That being said, it should be formatted like an Audio or Radio Drama.
Script: 
Font size must be 12 point and in Courier type 
Each episode must be 3-30 pages long
The script must be a single PDF under 5MB 
The pages must be numbered in the top right-hand corner
The script must have a title page
There must be a series outline at the end of the script, detailing the events of the remaining episodes in the series.
Audio:
Submissions must be between three (3) and thirty-five (35) minutes in length
There must be a series outline, detailing the events of the remaining episodes in the series.
---
When will I be notified of my placement?
Quarterfinalists | January 5th, 2024
Semifinalists | February 2nd, 2024
Finalists | March 1st, 2024
Grand Prize Winners | April 5th, 2024
---
Can I submit an anthology series?
Yes! As long as the episodes are still 3-30 pages and have a common theme.
---
Can I submit an adaptation?
Yes! Adaptations are accepted but the writer must own the copyright.
---
Can I submit more than one podcast?
Yes! But you must fill out separate entry forms for each one.
---
Can I submit a podcast if it has been sold?
Scripts must not have been optioned, sold, or distributed prior to April 5th, 2023. Applicants must notify Roadmap Writers of any changes in status following submission.
---
I do not live in the US, can I still enter?
Yes, we do accept podcasts from around the world.
---
What can I include on the title page?
You can include your name, title, and email.
---
If I win, does Roadmap Writers own the rights to my podcast? 
No, you retain all the rights to your work.
---
Who does the judging? 
All the judging is done by our team of judges and Roadmap Writers.
---
ABOUT ROADMAP WRITERS:
Roadmap Writers is a screenwriting education and training platform for Career Writers looking for a guided path to success. Our programs are hosted by working industry executives and are designed to empower writers with actionable tools and insights to elevate their craft and cultivate relationships with industry professionals. Since 2016, we have helped more than 350 writers sign to representation, and countless others get staffed, optioned, or sell their script.