Image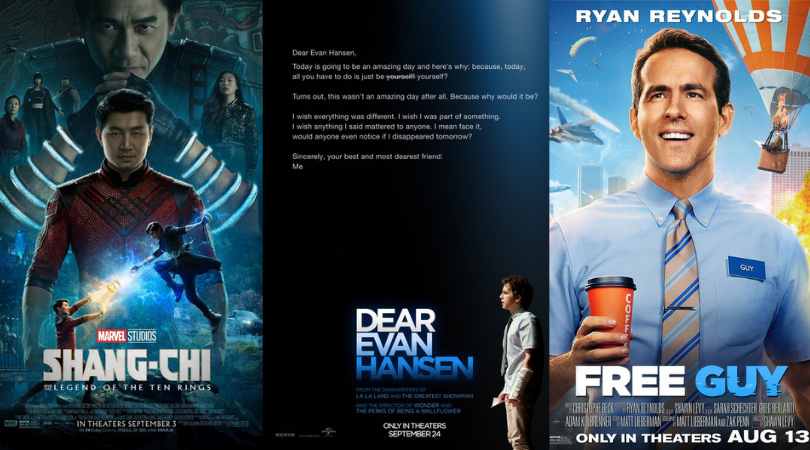 SHANG-CHI AND THE LEGEND OF THE TEN RINGS is #1 again for the fourth weekend in a row. This is only the third Marvel film to ever reach that milestone, as the MCU's newest hero added another $13.3M (Million) for a total of $196.5M domestically and $363.4M worldwide. This is all without China, where the film is not expected to play, despite being a significant hub for the Marvel brand. With a budget of $150M plus marketing, this one is still headed towards profitability for Disney and Marvel, albeit much lower than they are used to, in particular because of challenges which remain internationally. In the U.S., this title has already become the top film of the pandemic era, and will be the first since the pandemic to earn over $200M, a threshold that will be reached in the coming days.
DEAR EVAN HANSEN opened at #2 with a so-so $7.5M for Universal, despite strong scores from audiences. The good news for Universal is that the film only cost a modest $28M plus marketing, meaning that the financial loss will be a moderate one, though it does underscore the challenges which musicals have faced, along with any release geared towards an older audience — the one demographic which remains slow to return to theaters.
FREE GUY held at #3 with another $4.1M, a domestic total of $114M, and an impressive global total nearing $320M. The film has just concluded its run in China, where it grossed $94M alone, a tremendous success in the market. Produced for $110M plus marketing, this has become nicely profitable for Disney and 20th Century Studios, a completely original hit not based on anything else, and the start of a new franchise, with a sequel in development.
CANDYMAN is #4 with $2.5M, a domestic total of $56.8M, and $71.6M worldwide. Produced for $25M plus marketing, this has already become profitable for Universal, and is additionally topping the charts on PVOD (Premium Video On Demand), where it has just recently launched after a shortened theatrical window, per Universal's terms with exhibitors in the United States. It's a nice hit for Universal, which has overall enjoyed a lot of success during the pandemic under its new release model.
CRY MACHO is #5 with $2.1M and a total of only $8.3M for WB, continuing their misfortune at the box office this year. Produced for $33M plus marketing, it will be yet another financial loss for the studio. To date, those losses have included MALIGNANT, REMINISCENCE, MORTAL KOMBAT, THOSE WHO WISH ME DEAD, IN THE HEIGHTS, SPACE JAM: A NEW LEGACY, and THE SUICIDE SQUAD, the last of which alone cost $200M to produced and earned only $166M worldwide. All told, WB's losses this year may come close to $1 Billion, before the Discovery acquisition of the studio is finalized.
JUNGLE CRUISE is #6 with $1.7M, a domestic total of $114.8M, and $207.8M worldwide theatrically. This is in addition to over $125M in grosses through Disney+ Premier Access, bringing the complete revenue for the film to somewhere in the range of $340-350M, though the studio has not disclosed full numbers. Produced for $200M plus marketing, it has been enough to reach break-even for Disney, and is considered a successful investment in a new franchise, as a sequel has already been announced.
MALIGNANT is #7 with $1.5M, a domestic total of just $12.2M, and almost $30M worldwide. Produced for $40M plus marketing, this will be a moderate financial loss for WB, along with the rare misfire from James Wan, who is in production now on AQUAMAN 2, the sequel to his smash $1 billion superhero hit.
COPSHOP is #8 with $1.2M, and a total of only $4.4M for Open Road Films. The hope for this one is that it will play well on PVOD, a format where action/thrillers have excelled over the past year.
PAW PATROL: THE MOVIE slid to #9 with $1.1M, a domestic total of $38.7M, and an impressive $104.8M worldwide for Paramount. Produced for $26M plus marketing, this has become a solidly profitable hit for the studio, and will likely see a sequel.
LOVE STORY opened at #10 with $971K, playing in just 300 theaters.
Other Notable: DUNE has now earned $77M internationally after only two weekends of play for WB and Legendary, in early offshore rollout. This is before the film launches in the U.S. and in China, along with numerous other key markets. The numbers here continue to impress, pointing to what should be a highly successful run overseas.
Next weekend will see Marvel rule again for the fifth time in a row, albeit with Sony's VENOM: LET THERE BE CARNAGE as the symbiote takes the top spot away from the ten rings. Marvel's Spider-Man based antihero has been tracking well, and all eyes will be on the weekend performance along with international numbers. China, a key territory, is expected to give this one a release date, which will be a boon to overseas. Also on deck is WB's THE MANY SAINTS OF NEWARK, the prequel to THE SOPRANOS which will be playing day-and-date on HBO Max as well as theatrically.