Image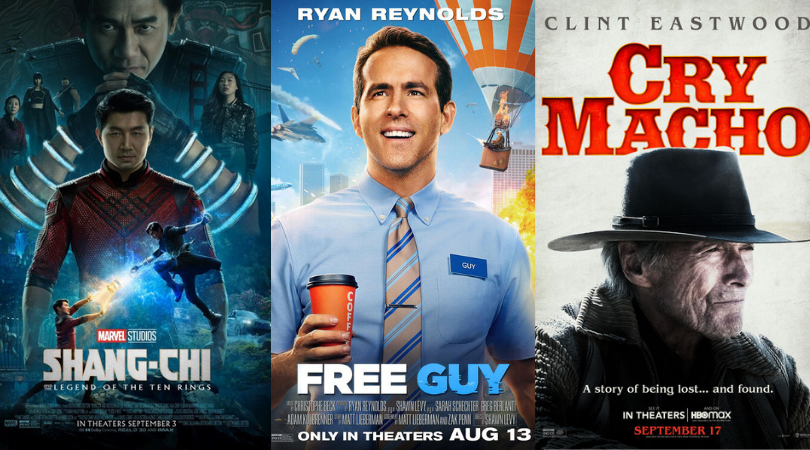 SHANG-CHI AND THE LEGEND OF THE TEN RINGS is #1 again for the third weekend in a row. The Disney and Marvel smash added $21.7M (Million) over this frame, for a domestic total of $176.8M and $320.5M globally. There is much more to be earned on a film that is set to become the first of the pandemic era to crack over $200M in the United States. Produced for $150M plus marketing, this is easily headed towards profitability, albeit at a lower number than the MCU typically enjoys, with a lot of international still affected by the virus, and without a China release, where Marvel films enjoy tremendous results. Even with those considerations, this is a hit film that will assuredly spawn a new MCU franchise.
FREE GUY held at #2 with another $5.2M, a domestic total of $108.5M, and $298M worldwide. The $300M threshold will be passed within days. This is another hit for Disney along with 20th Century Studios, and with a budget of $110M plus marketing, has cruised to profitability. A sequel has already been announced, continuing Guy and Buddy's adventures beyond Free City.
CRY MACHO opened at #3 with a disastrous $4.5M for WB. Produced for $30M plus marketing, this will be yet another loss for the struggling studio, and comes back-to-back with MALIGNANT's failure last weekend. All told, the studio may see nearly a billion dollars in losses before their high-profile sale to Discovery finalizes. It is an unprecedented losing streak for any studio.
CANDYMAN held at #4 with $3.5M, a domestic total of $53M, and $66M worldwide. Produced for $25M plus marketing, this will end its run for Universal as another nicely profitable success theatrically, while also bringing in big numbers via PVOD where the film has simultaneously become available for rental.
MALIGNANT is #5 with $2.6M, a domestic total of just $9.8M, and $24.6M worldwide. Produced for $40M plus marketing, this is headed towards financial loss for WB, and the rare misfire from James Wan, who is in production on AQUAMAN 2 right now, after that film's billion-dollar success.
COPSHOP opened at #6 with a horrible $2.3M debut for Open Road Films. This will be a sharp financial loss for all involved, and one of the worst showings for Gerard Butler over the entire course of his career.
JUNGLE CRUISE is #7 with $2M, a domestic total of $112.5M, and $204.5M worldwide in theatrical revenue. Added to that is over $125M in revenue from Disney Premier Access, giving the studio a total of around $330M so far in grosses. Produced for $200M plus marketing, this one has essentially become break-even for Disney, with a sequel already announced reuniting the entire cast and crew.
PAW PATROL: THE MOVIE is #8 with $1.7M, a domestic total of $37.1M, and an impressive $103.2M worldwide for Paramount. Produced for $26M plus marketing, this has become a surprise hit for the studio while simultaneously being available for free on Paramount Plus to subscribers.
THE EYES OF TAMMY FAYE opened at #9 with a debut of $675K, awful numbers even for a specialty title, and demonstrating that adult-skewing dramas geared towards an older audience are the one area where the pandemic continues to wreak havoc on the box office.
DON'T BREATHE 2 is #10 with $665K, a domestic total of $31.3M, and close to $46M worldwide. Produced for $15M plus marketing, this has become moderately profitable for Sony and Screen Gems.
Next weekend will be ruled by SHANG-CHI for the fourth and final time, with only DEAR EVAN HANSEN as the sole new studio release, ahead of Sony and Marvel's VENOM: LET THERE BE CARNAGE starting previews on September 30th and kicking off October, which will be the busiest month at theaters in nearly two years.