Image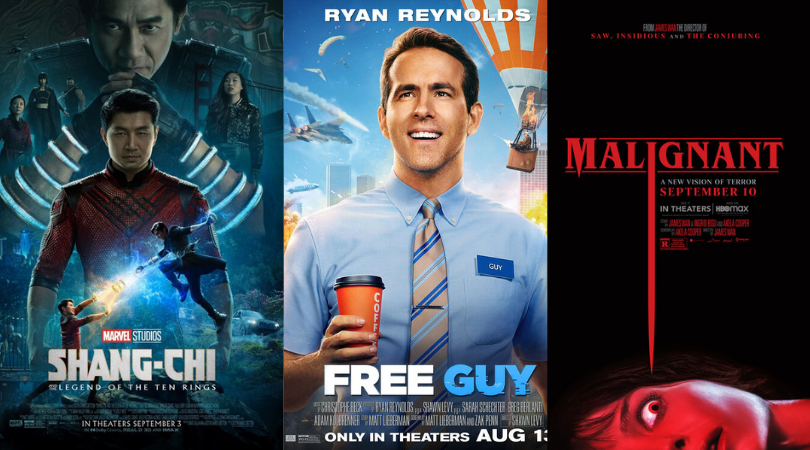 SHANG-CHI AND THE LEGEND OF THE TEN RINGS remained at #1 for the second week in a row, dropping only -53% with a terrific hold, to bring in another $35.8M (Million) domestic. The U.S. total now stands at $154.6M, and $257.6M worldwide, with much more to be earned. This is also without China, where the film, like BLACK WIDOW before it, is not expected to play. Carrying a budget of $150M plus marketing, this is well on its way to profitability for Disney and Marvel. 

FREE GUY held at #2 with another $5.8M, to bring the domestic total to an impressive $101.8M and global closing in on $300M in the coming weeks, counting over $75M of that from China alone. Produced for around $110M plus marketing, this is quickly becoming a nicely profitable, original hit for Disney and 20th Century Studios. 
MALIGNANT opened at #3 with a disastrous $5.5M domestic debut, and $15.1M worldwide. Produced for $40M plus marketing, this is another failure for WB, which counts nine films thus far this year which have posted losses, some more significant than others. It's an unprecedented losing streak for any studio, and could be worse before year's end. 

CANDYMAN is #4 with $4.8M, a domestic total of $48M, and a worldwide total of close to $60M and climbing. Produced for $25M plus marketing, this Universal release will be modestly profitable for the studio, in a nice win which continues Universal's overall success this year despite pandemic challenges. 

JUNGLE CRUISE is #5 with $2.4M, a domestic theatrical total of almost $110M, $196M worldwide theatrically, and over $300M in total revenue counting Disney+ Premier Access. Produced for $200M plus marketing, the film is essentially break-even for the studio, with a sequel already announced. 

PAW PATROL: THE MOVIE is #6 with $2.2M, a domestic total of $34.6M, and over $92M worldwide, with a real shot at passing the $100M mark for Paramount. Produced for $26M plus marketing, this has already become profitable for the studio. Of note, Paramount has actually posted a higher profit overall this year than pre-pandemic 2019, fueled by successes such as A QUIET PLACE PT. 2 and this animated hit. 
DON'T BREATHE 2
is #7 with $1.2M, a domestic total of $30M, and almost $45M worldwide. Produced for $15M plus marketing, this has become solidly profitable for Sony and Screen Gems, albeit much lower in grosses than the original. 
THE CARD COUNTER
opened at #8 with $1.1M playing in just 580 theaters, a decent result for the speciality title and limited release. 
SHOW ME THE FATHER
is #9 with $700K in its debut.
RESPECT
is #10 with $503K and a total of $23.1M. 
Next weekend will be ruled Marvel and SHANG-CHI for the third time, with only WB'S
CRY MACHO
from Clint Eastwood, and Searchlight's
THE EYES OF TAMMY FAYE
as the new studio releases, neither anticipated to do much business. Overall business will be slow until Marvel and Sony's
VENOM
opens October 1st (previews starting September 30th), kicking off what will be an incredibly busy and lucrative fourth quarter at the box office.