Image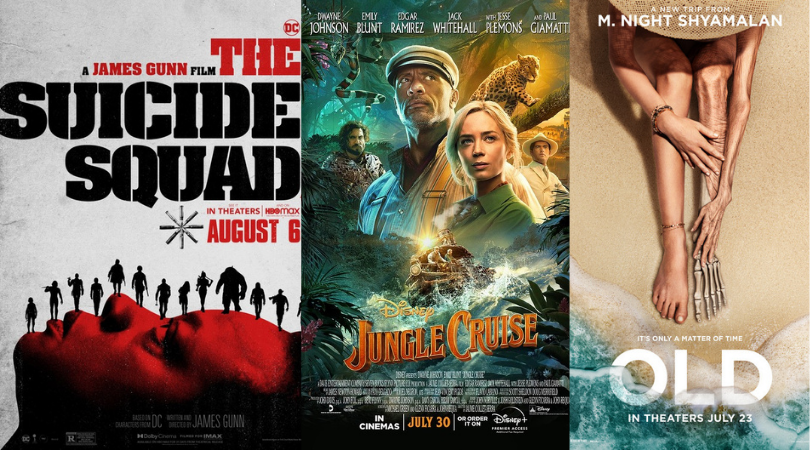 THE SUICIDE SQUAD opened at #1 with a disastrous $26.5M (Million) domestic and a global haul of $72.2M in over 70 markets excluding China, well below expectations. With a budget of $185M plus marketing costs, this will be a sharp loss for WB. More troublesome factors include only a B+ CinemaScore from audiences (the same as 2016's Suicide Squad), that this R-rated title will not be allowed to play in China, and what is expected to be a sharp drop next weekend, in the -55% to -60% range. This result is lower than $33M opening for BIRDS OF PREY (which cost only $80M and was still a financial loss), and is down drastically from the pre-pandemic 2016 SUICIDE SQUAD which opened to $133.6M over three days, on its way to $325M domestically and $746M worldwide. The studio will lose well over $150M on this film when all is said and done, representing one of the most expensive flops in recent history, either before or during the pandemic.
JUNGLE CRUISE held at #2 with $15.6M, for a better hold than expected at -55%. The domestic theatrical is now $65.3M (almost identical to RAMPAGE), global theatrical is at $121.8M, and Disney+ earnings are more than $45M, for a total revenue of at least $166M, though the studio has not disclosed full official numbers. International is still struggling, and the lack of playing in China has also greatly impacted this film's prospects. Produced for $200M plus marketing, this looks likely to be a financial loss for Disney.
OLD is #3 with $4.1M, a domestic total of $38.5M, and a solid $65.1M worldwide. Produced for only $18M plus marketing costs, this has already become profitable for Universal, and another success for M. Night Shyamalan, continuing his winning streak at the box office.
BLACK WIDOW is #4 with $4M, a domestic theatrical haul of $174.3M (the best of the pandemic), almost $360M globally, and total earnings of at least $460M counting Disney+ revenue. Produced for $200M plus marketing, this Marvel release has now entered break-even territory for the studio, though without a release in China (where it would have earned $200M+ traditionally), this superhero film is unlikely to become outright profitable.
STILLWATER stayed at #5 with $2.8M, and a total of $10M so far domestically. International has yet to roll out on this release. Produced for $20M plus marketing, this will need a decent international run and strong PVOD performance to become profitable.
THE GREEN KNIGHT fell to #6 with $2.5M, and a total of $12.1M. There are no international territories launched to date. Produced for $15M plus marketing, this should be able to reach profitability if it can perform decently overseas and with PVOD factored in.
SPACE JAM: A NEW LEGACY is #7 with $2.4M, a domestic total of $65.6M, and $135.4M worldwide. The lack of China is again hurting another title, this one budgeted at $150M plus marketing, and headed for a steep loss. All told, the two failures of The Suicide Squad and this release will represent a sharp overall loss of profit for the studio, with two expensive flops in a row, ahead of WB's sale/merger with Discovery.
SNAKE EYES: G.I. JOE ORIGINS is #8 with $1.6M, a domestic total of only $26M, and $33.4M global. Produced for $80M plus marketing, this is another pricey studio failure and will represent a significant financial loss for Paramount.
ESCAPE ROOM: TOURNAMENT OF CHAMPIONS is #9 with $1.2M, a domestic total of $23M, and $33M worldwide. Produced for just $15M plus marketing, this one has already hit the break-even range for Sony, and should find itself profitable between the remainder of international and the PVOD release.
F9: THE FAST SAGA is #10 with $1.2M, a domestic total of $171M, and a global haul of $661M, representing the best worldwide total of the pandemic era thanks to strong international numbers and being the last major Hollywood film to release in China before their extended and worrisome blackout. Produced for $200M plus marketing, this is the only big-budget tentpole of the summer to become profitable, in a major win for Universal.
This upcoming week sees the release of sci-fi action/comedy FREE GUY from 20th Century Studios and Disney, along with Screen Gems and Sony's horror sequel DON'T BREATHE 2, each hoping to connect with their respective audiences in a struggling, sluggish, pandemic-stricken marketplace.