Image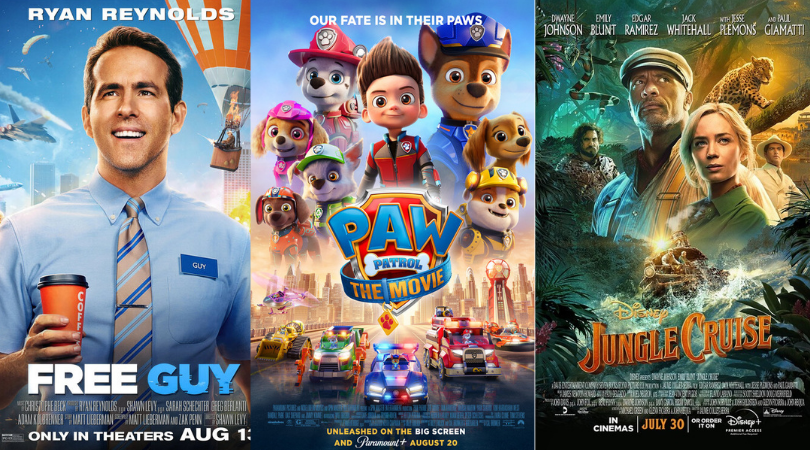 FREE GUY is #1 again with a stellar $18.8M (Million), off just -34% vs. last weekend. The domestic total now stands at $58.8M, and worldwide is just shy of $112M, with much more to be earned. Strong holds are expected in the weeks ahead, and China will debut next weekend, anticipating a large result in that market. Produced for around $110M plus marketing, this film should become nicely profitable for Disney and 20th Century Studios, with a sequel already in development.
PAW PATROL: THE MOVIE opened at #2 with a strong $13M domestic, well above where tracking had this title ahead of release. Worldwide is at nearly $35M, while the animated movie is also playing free to subscribers of Paramount+ in the United States. Budgeted at $26M plus marketing, this will ultimately prove profitable for Paramount.
JUNGLE CRUISE held on at #3 with $6.2M, a domestic total of $92.5M theatrically, and close to $174M globally. Combined with over $100M from Disney+ Premier Access, and this release is closing in on $300M in total earnings. Budgeted at $200M plus marketing, this will essentially be a small financial loss for the studio without a China release, but with that market could hit break-even range.
DON'T BREATHE 2 is #4 with $5M, off just -52% in what is a strong hold for a horror title, as the genre traditionally sees sharper second weekend declines. The domestic total is now $19.6M and worldwide is $27.1M. With a budget of just $15M plus marketing, this is headed towards profitability for Sony and Screen Gems.
RESPECT is #5 with $3.8M, and a total of $15.1M. Produced for $55M plus marketing, this will be a financial loss for everyone involved.
THE SUICIDE SQUAD is #6 with $3.4M, a domestic total of only $49.2M, and $140M worldwide. Produced for $200M plus marketing, this has been a financial disaster for WB and will cost the studio well over -$150M in losses.
THE PROTEGE opened at #7 with a terrible $2.9M debut. Expect this title to hit PVOD shortly, where the hope for Lionsgate is that they can reach break-even range thanks to the strength of action films in the home release market.
THE NIGHT HOUSE opened at #8 with an equally terrible $2.8M. This will assuredly be a moderate financial loss for Searchlight.
REMINISCENCE opened at #9 as another WB disaster, bringing in just $2M. Produced for $68M plus marketing, this will be a significant financial flop, continuing the studio's expensive losing streak this summer. At this point, the studio is approaching nearly negative half a billion dollars in combined film losses for the year.
BLACK WIDOW is #10 with $1.1M, a domestic total of $180M theatrically (the best of the pandemic), nearly $370M worldwide theatrical, and over $125M from Disney+ Premier Access, as the studio officially disclosed on Friday. Combined the film has earned around $500M in total grosses, without China where Marvel enjoys lucrative business. Produced for $200M plus marketing, this has broken even for the studio, and will end up profitable once home revenue from rentals and sales are factored in.
Next week sees the release of horror reboot CANDYMAN, ahead of the extended Labor Day Weekend holiday which will launch Marvel's anticipated SHANG-CHI AND THE LEGEND OF THE TEN RINGS.