Image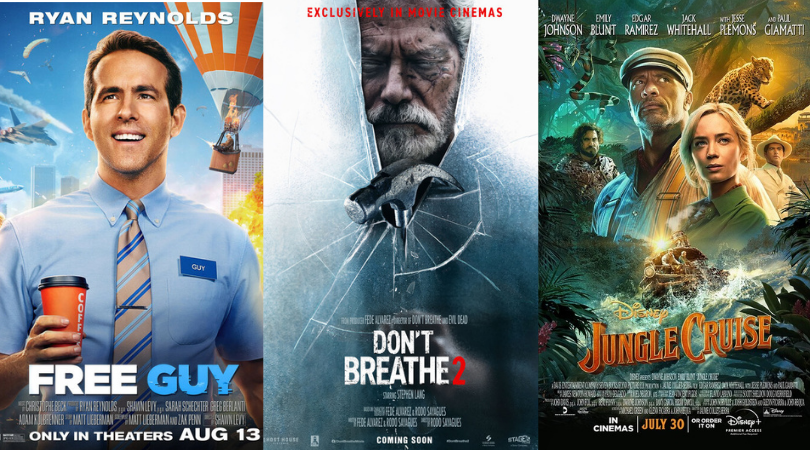 FREE GUY opened at #1 far above tracking and expectations, with a strong $28.4M (Million) domestic debut, and $51M globally, with much more to be earned. Produced for around $110-115M, this one could reach profitability thanks to strong word-of-mouth, an A CinemaScore from audiences, theatrical exclusivity, and international appeal as the worldwide marketplace rebounds. 20th Century Studios and Disney have already announced plans for a sequel, turning this purely original film — based on an original spec script, no previous IP — into an original franchise.
DON'T BREATHE 2 opened at #2 with a decent $10.6M domestically and an early $14M worldwide. This one is a sequel to another successful original spec-based project, the first film of which earned a stunning $157M in a pre-pandemic marketplace. The totals here will be down sharply for Sony and Screen Gems, but at a budget of only $15M plus marketing, they should have no problem reaching profit.
JUNGLE CRUISE slid to #3 with $9M, a terrific hold, which brings the domestic theatrical total to $82.1M, worldwide theatrical to $154.3M, and total global earnings including Disney+ Premier Access to more than $254M. Produced for $200M plus marketing, it's not yet clear if this one will become profitable, but much of that is riding on international, including whether the film is ever released in China. As it stands, Disney might still be able to reach break-even range.
RESPECT opened at #4 with $8.8M, an okay result right in line with tracking, but disastrous in relation to the film's budget of $55M plus marketing costs. This one will be a sharp financial loss for all involved.
THE SUICIDE SQUAD collapsed at #5 with a terrible $7.7M, down -70.4% from its debut last weekend. It's now earned just $42.8M domestically and $118M worldwide. The complete domestic total will not match the opening day of 2016's SUICIDE SQUAD, which earned $64.8M on its first Friday, on the way to $325M domestic and $746M global. At a budget of $200M plus marketing, this sequel to that smash hit will be a significant financial loss for WB.
OLD is #6 with $2.4M, a domestic total of $42.8M, and an impressive $74M worldwide. Produced for only $18M plus marketing, this has become a nice hit for M. Night Shyamalan and Universal, continuing his winning streak.
BLACK WIDOW is #7 with $2M, a theatrical domestic total of $178.1M (the best of the pandemic era), and $367.8M worldwide. Combined with Disney+ Premier Access, the global total stands at over $467M, without China, a significant hub for Marvel films. Produced for $200M plus marketing, the film has hit break-even range, and depending on what happens internationally, could reach slight profitability even on the lower-end of Marvel's releases.
STILLWATER is #8 with $1.3M, and a total of $12.5M. With a budget of $20M plus marketing, this looks like it will be a modest financial loss, even including the PVOD release which is coming up.
THE GREEN KNIGHT is #9 with $1.1M, and a total of $14.7M. Produced for $15M plus marketing, this one could reach profitability once PVOD is factored in, but that remains to be determined.
SPACE JAM: A NEW LEGACY is #10 $1.1M, a domestic total of $68M, and $144.8M worldwide. Produced for $150M plus marketing, this will be a sharp financial loss for WB, which continues to struggle with the majority of its releases that are also simultaneously available to HBO Max subscribers at home.
Next weekend sees releases for WB's sci-fi thriller REMINISCENCE, Paramount's family animated film PAW PATROL, Lionsgate's actioner THE PROTEGE, and horror film THE NIGHT HOUSE.