Image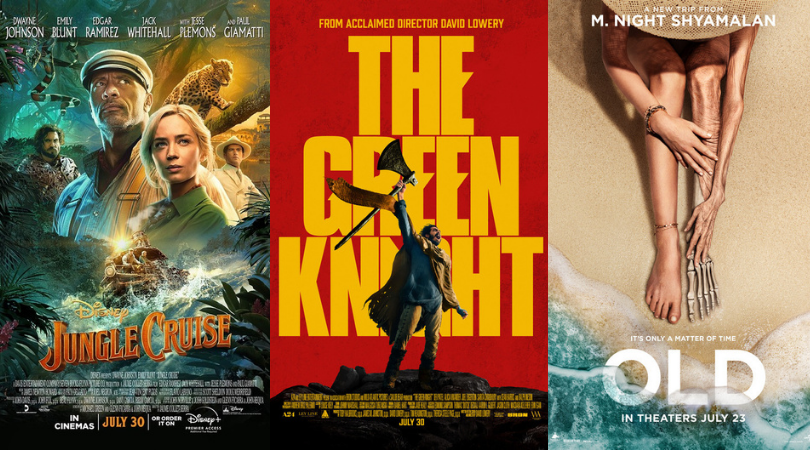 JUNGLE CRUISE opened at #1 above expectations with a strong $34.2M (Million) in domestic theatrical earnings, $27.6M internationally, and more than $30M via Disney Premier Access, for a total global rollout of more than $91M. With a budget of $200M plus marketing however, the film will need more than four times this amount to reach profitability, and faces difficulties due to a sluggish international landscape still struggling greatly in the pandemic, and the blackout situation in China, where no studio films are being allowed to play or scheduled at least through the month of August so far, though the Chinese government has been known to give approval and release dates now with little to no warning or ability to successfully market to the Chinese audiences. With both these situations, it is becoming increasingly difficult to release big-budget tentpoles which rely on sky-high grosses for profitability.
THE GREEN KNIGHT opened at #2 way below with just $6.7M domestically, low for the second place but incredibly strong for an independent/specialty title. With a budget of only $15M plus a modest marketing campaign, this should be able to reach profitability for A24, especially once international factors in.
OLD is #3 with $6.7M, a domestic total of $30.6M, and $48.6M worldwide. Produced for only $18M plus marketing, this is already profitable for Universal, with more to be earned, continuing M. Night Shyamalan's recent winning streak, and Universal's success with smaller and mid-range genre films.
BLACK WIDOW slid to #4 with $6.4M, a domestic total of $167M, and $343.5M worldwide in theatrical earnings. The film has also earned more than $100M on Premier Access, for a complete haul of over $450M. This is all without China, which is Marvel's second biggest market behind the U.S. and contributes more than $200M per MCU title traditionally. China's absence is felt hugely in the film's numbers. Domestically, this will become the top film of the year by the end of next weekend; while international is still ruled by F9, which did play in China before the blackout.
STILLWATER opened at #5 $5.1M, a disappointing result for the Matt Damon drama/thriller. With a budget of only $20M however, this one could be rescued by a decent international result and strong PVOD performance, where it is expected to debut within the next three weeks.
SPACE JAM: A NEW LEGACY is #6 with $4.2M, a domestic total of $60.7M, and $118.6M worldwide. With a budget of $150M plus marketing, however, this is headed to be a steep financial loss for WB.
SNAKE EYES: G.I. JOE ORIGINS collapsed at #7 with $4M, down -70% from its opening weekend, for a domestic total of only $22.2M, and $28.7M worldwide. Produced for $80M plus marketing, this is a disastrous result for Paramount.
F9: THE FAST SAGA is #8 with $2.6M, a domestic total of $168.5M, and $641.7M worldwide, the top global hit of the year so far. Produced for $200M plus marketing, all credit is due to Universal, which has managed to turn this film into a profit despite the intense challenges in the theatrical market. Two more final installments of the core FAST franchise are in production now.
ESCAPE ROOM: TOURNAMENT OF CHAMPIONS is #9 with $2.2M, a domestic total of $20.5M, and $31M worldwide. Produced for $15M plus marketing, this is getting close to break-even range for Sony, before PVOD boosts the film's numbers, meaning it will be overall profitable for the studio thanks to its low budget.
THE BOSS BABY: FAMILY BUSINESS is #10 with $1.3M, a domestic total of $53.4M, and $70M worldwide for Universal.
All eyes are on next weekend, when WB's THE SUICIDE SQUAD premieres from DC Films and writer/director James Gunn. The following week will see the release of horror sequel DON'T BREATHE 2, and 20th Century Studios/Disney's FREE GUY.