Image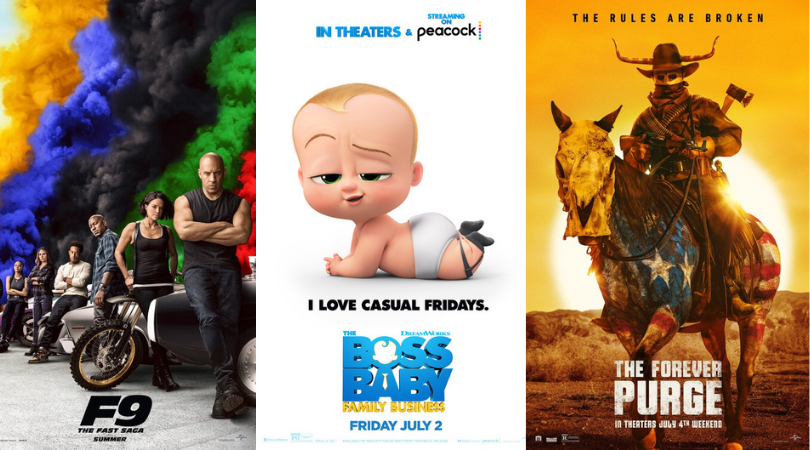 F9: THE FAST SAGA is #1 again, ruling the extended box office with another $30.1M (Million) over the holiday weekend. The domestic total now stands at $123.2M, while globally the film will surpass the $500M mark tomorrow. There are still key territories left to open for Universal, and all expectations are that this $200M production will be profitable for the studio, with two more final installments on the way.
THE BOSS BABY: FAMILY BUSINESS opened at #2 for Universal with $20M for the weekend, above expectations. Produced for $80M plus marketing, this animated film will rely on strong domestic holds and a robust international number to be profitable, even as it follows other kid film sequels in falling short of the original.
THE FOREVER PURGE opened at #3 also from Universal, pulling off the rare feat of owning all top releases for the weekend. This one brought in $15.6M domestically, and a very early total of $19.2M worldwide. With a budget of only $18M plus marketing, there is no doubt that this will be profitable for the studio, continuing the franchise's success.
A QUIET PLACE PART II slid to #4 with $5M, a big domestic total of $145M, and an impressive $257.3M globally. Produced for $60M plus marketing, this film has already become profitable for Paramount, with more to be earned and a third installment of the hit franchise on the way.
THE HITMAN'S WIFE'S BODYGUARD is #5 with $3.9M, a domestic total of $32.2M, and an early $47.8M worldwide. Produced for a little more than $50M plus marketing, this will need a strong international run to reach profitability in theaters.
CRUELLA is #6 with $3.2M, a domestic total of $77.1M, and $204.9M worldwide. Produced for $100M plus marketing, this is quickly approaching break-even range for Disney in theaters, even as the studio has not disclosed what the film has earned as a Premier Access rental on Disney+. A sequel has been announced as in-development.
PETER RABBIT 2: THE RUNAWAY slipped to #7 with $2.8M, a domestic total of $35M, and a much stronger global total of $127.1M. Produced for $45M plus marketing, this Sony sequel has reached profitability for the studio, thanks in large part to its worldwide tally, which represents 72.5% of its total.
ZOLA is #8 with only $1.6M and a total of just $2.4M over its six day debut. This is another one coming in below expectations, and will prove a financial loss for A24.
THE CONJURING: THE DEVIL MADE ME DO IT fell to #9 with $1.5M, a decent total of $62.4M domestically, and a stronger $174M worldwide. While far short of the franchise's peak, at a budget of just $40M plus marketing, this sequel has become profitable for WB, continuing the success of the long-running brand.
IN THE HEIGHTS is #10 with $1.5M also for WB, to bring its domestic total to $27M and the worldwide total to only $35.9M. Despite the critical acclaim and high audience scores, this film will be a sharp financial loss for the studio.
All eyes are now on Disney and Marvel's BLACK WIDOW which begins its global launch on Wednesday internationally, and domestically starting with Thursday night previews. The film will also be available as a Premier Access rental for subscribers on Disney+, but despite home availability, theatrical ticket sales have begun to outpace those for F9, suggesting a huge opening weekend ahead.