Image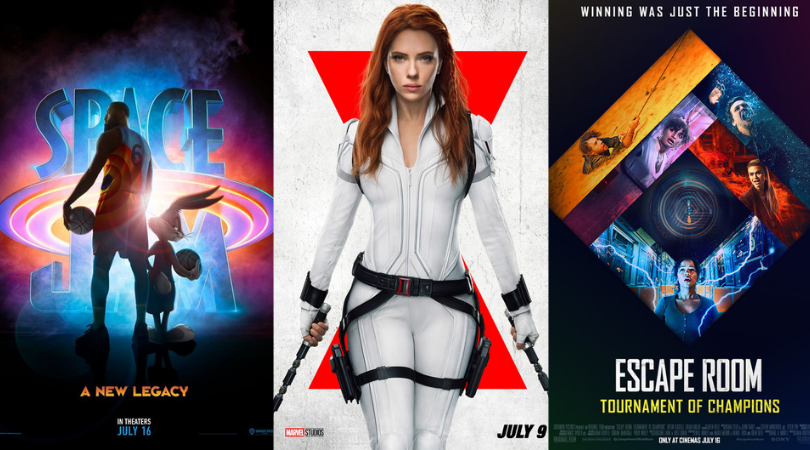 SPACE JAM: A NEW LEGACY opened at #1 with a strong $31.6M (Million) domestically and early global take of $54.6M, above expectations for WB. Unfortunately with a budget of $150M plus marketing, there is no path to profitability for the studio, though break-even range remains possible with good holds over the coming weeks combined with international totals.
BLACK WIDOW slipped to #2 with a steep fall of -67%, earning $26.2M to bring the domestic total to $132M, the global haul to $264M, and over $324M including revenue from Disney's Premier Access. Produced for around $200M plus marketing, the film still has a long climb towards profitability, and may not reach that number for Marvel and Disney, representing a rare underperforming disappointment for the superhero brand.
ESCAPE ROOM: TOURNAMENT OF CHAMPIONS opened at #3 with a poor showing of just $8.8M domestic and $13.3M worldwide. Produced for around $18M plus marketing, it could reach break-even for Sony, but will not be profitable.
F9: THE FAST SAGA is #4 with $7.6M, a domestic total of $154.8M, and a global haul that will smash past the $600M mark this week. Produced for $200M plus marketing, this film has reached the point where it is profitable for Universal, even if the final total will be closer to HOBBS & SHAW than FATE OF THE FURIOUS, down sharply from recent entries in the core franchise.
THE BOSS BABY: FAMILY BUSINESS is #5 with $4.7M, a domestic total of $44.6M, and an incredibly early $48M worldwide, with most of global yet to debut for Universal.
THE FOREVER PURGE held at #6 with $4.1M, a domestic total of $35.9M, and $48.6M worldwide. Produced for only $18M plus marketing, this film has had no problem becoming profitable for Universal, with more to be earned.
A QUIET PLACE PART II is #7 with $2.3M, an impressive domestic total of $155M, and a global take of $285.6M for Paramount. This has become a nice hit for the studio, and a third film is on the way.
ROADRUNNER opened at #8 with $1.9M, a decent showing for a documentary feature during these pandemic times, as the specialty market begins to demonstrate more signs of life than it has in the recent past.
CRUELLA is #9 with $1.1M, a domestic total of $83.4M, and a better worldwide total of $219.5M, not counting whatever it has earned on Premier Access, as Disney has not disclosed those financials as they did for Black Widow. Produced for around $100M plus marketing, however, it can be assumed that this has reached break-even range.
PIG opened at #10 with $945K for Neon, playing in just 552 theaters.
Next weekend sees the release of action tentpole SNAKE EYES: G.I. JOE ORIGINS from Paramount, and M. Night Shyamalan's horror film OLD from Universal, both looking to make strong debuts with their target audiences as more and more people return to their multiplexes and local theaters over this summer.