Image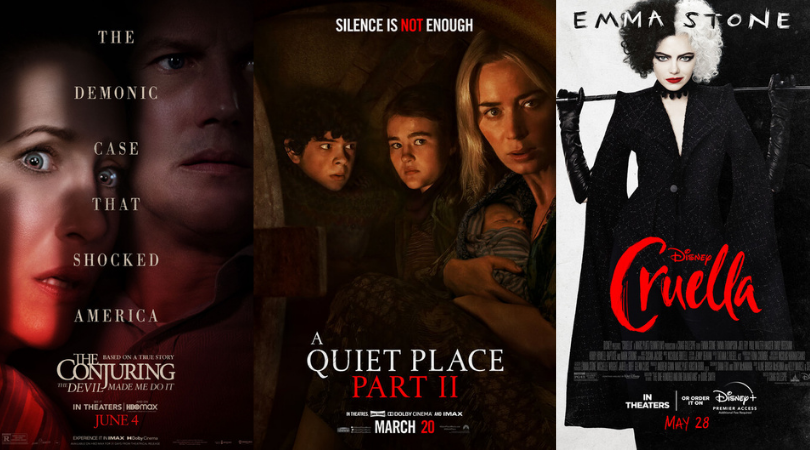 Weekend Box Office Top Ten - The traditional box office report is back! With a consistent slate through the summer, fall, and winter, box office top ten will continue uninterrupted for the first time since the beginning of March 2020, as theatrical charts its course to a full recovery.
Opening at #1 this weekend was THE CONJURING: THE DEVIL MADE ME DO IT, the third film in the core "Conjuring" franchise. Debuting above expectations, the film brought in $24M (Million) domestically, and an early total of $57M worldwide. This is in addition to being made available for free to HBO Max subscribers. WIth a budget of $40M plus marketing, this film is expected to be profitable for WB. 
A QUIET PLACE PART II slid to #2 with $19.5M after an impressive start last weekend, bringing its domestic total to a nice $88M so far, and set to cross the $100M threshold next weekend, the first film to hit this mark in the pandemic-era. Globally the film has amassed a terrific $138M playing in just 16 markets so far. With a budget of $60M plus marketing, this will easily be a profitable hit for Paramount, which has already scheduled another sequel. 

CRUELLA is #3 with $11.2M in its second weekend, and a domestic total of $43.6M. Worldwide stands at $87M from 36 markets. This does not include Disney+ Premier Access where the film can be rented for $30. While those numbers aren't disclosed, snapshot metrics alone suggest last weekend brought in north of $20M from U.S. audiences, and quite possibly much higher. A sequel has already been announced as in development from Disney. 
SPIRIT UNTAMED opened at #4 with a dismal $6.2M from Universal and Dreamworks Animation, right in line with its tracking and muted expectations from the studio. 
WRATH OF MAN held at #5 with $1.2M, a solid domestic total of $24.6M, and a much more impressive global total of at least $82M, with this weekend's international tally not yet available. This is in addition to its availability in the U.S. on digital rental services, where it has been the top VOD title across all major charts and video-on-demand platforms, with a rental price of $19.99. Budgeted at $40M plus marketing, this has no doubt become another profitable success for Guy Ritchie and Jason Statham. 

RAYA AND THE LAST DRAGON is #6 with $1.2M, a domestic total of $53.5M, and a global total of $118M. While now free to Disney+ subscribers, the theatrical revenue does not count its Premier Access run, where no numbers have been disclosed and no viewing metrics are readily available from the studio, leaving the film's true revenue/profitability unknown unless Disney chooses to release those numbers. 

SPIRAL is #7 with $890K (Thousand), a domestic total of $21.8M, and a little over $30M worldwide. The film has now also entered the VOD market in the U.S. where it is available for rental at $19.99. Budgeted at $20M plus marketing, it is unclear whether this film will reach profitability for Lionsgate, though it will certainly have no problem hitting break-even range for the studio. 

GODZILLA VS. KONG is #8 with $463K, and a domestic total of $99.1M. There is no doubt that this will become the second film in the U.S. to reach the $100M benchmark in the pandemic-era, an encouraging sign for the box office recovery. Globally the film has brought in over $437M with key markets including Japan yet to open. Budgeted at $160M plus marketing, this film will be profitable for Legendary and WB, with another "Kong" film already announced as in development. 

DEMON SLAYER: MUGEN TRAIN is #9 with $457K and a domestic total of $47.7M, a hugely impressive number for an anime title. Worldwide the film has also crossed another milestone this weekend, and has surpassed the $500M mark, a tremendous total from what has become an intensely popular mega-franchise originating out of Japan.

DREAM HORSE is #10 with $230K, and a total of $2.3M for Bleecker Street Media.

Next weekend sees openings for WB's long-awaited and heavily hyped musical IN THE HEIGHTS, and Sony's animated sequel PETER RABBIT 2: THE RUNAWAY, with the following weekend seeing THE HITMAN'S WIFE'S BODYGUARD (June 16th), and Universal's massive F9 closing out the month on June 25th.