Image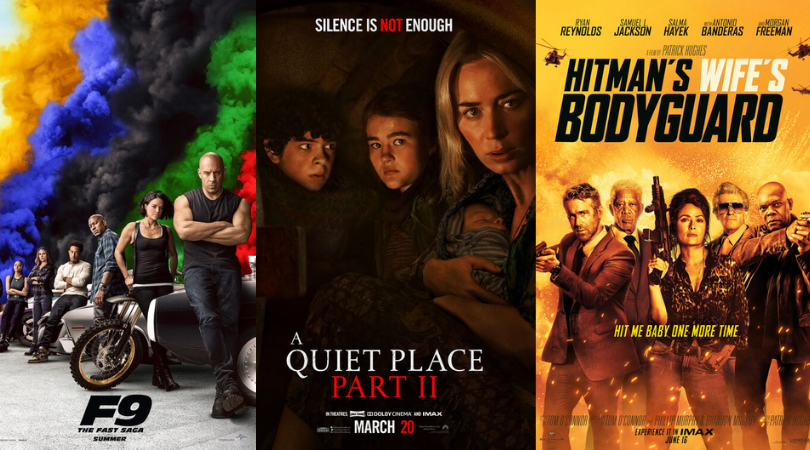 F9: THE FAST SAGA debuted at #1 with a terrific $70M (Million) launch in the United States, representing a true return to pre-pandemic levels of box office, and the first film to earn $70M or more over three days since THE RISE OF SKYWALKER in December 2019. This is a gigantic win for Universal, and for the theatrical recovery. Globally, F9 has now earned $404M with key markets yet to open. While this entry will fall short of others in the series, with a budget of $200M it will be profitable for the studio, with two more entries concluding the franchise. 

A QUIET PLACE PART 2 held at #2 with another $6.2M, an impressive domestic total of $136.3M, and $248.4M worldwide with more to be earned. Produced for only $60M plus marketing, this film has already become profitable for Paramount, and another successful piece of theatrical's return to normal box office results. A third film has already been announced for 2023. 

THE HITMAN'S WIFE'S BODYGUARD is #3 with $4.8M, a domestic total of $25.8M, and an early worldwide total of $31.4M. Produced for around $70M plus marketing, this sequel is falling short of the first film and will likely lose money for all involved.

PETER RABBIT 2: THE RUNAWAY is #4 with $4.8M, a solid domestic total so far of $28.8M, and $107.8M worldwide. With a budget of $45M plus marketing, this is already in breakeven range for Sony, and while it will not earn nearly what the original film made, it is still set to be profitable for the studio. 

CRUELLA is #5 with $3.7M, a domestic total of $71.3M, and $183M worldwide. While this will earn more than $200M globally, it has also been available on Disney+ in the United States, and Disney has not disclosed any of the financials. A sequel, however, has already been announced as being in development. 

THE CONJURING: THE DEVIL MADE ME DO IT slid to #6 with $2.9M, a domestic total of $59.1M, and $160M worldwide. Produced for $40M plus marketing, this marks another profitable entry in the long-running Conjuring franchise for WB, including spin-offs. 

IN THE HEIGHTS continued its collapse at #7 with $2.2M, a domestic total of only $24.1M, and $30M worldwide. This one will be a sharp loss for WB, despite its critical acclaim and high audience scores. 

SPIRIT UNTAMED is #8 with $1M, a domestic total of $15.8M, and $22.7M worldwide, in line with muted expectations for Universal. 

12 MIGHTY ORPHANS is #9 with $591K and a total of $2.2M for Sony.

NOBODY jumped back up to #10 with $560K, a domestic total of $26.7M, and $61.6M worldwide. Produced for only $16M plus marketing, this has become a nice original action hit for Universal. 

The July 4th holiday weekend will prove a quiet one with THE FOREVER PURGE as the only significant release from Universal, ahead of Disney and Marvel's BLACK WIDOW which is on track for big numbers when it launches on July 9th.