Image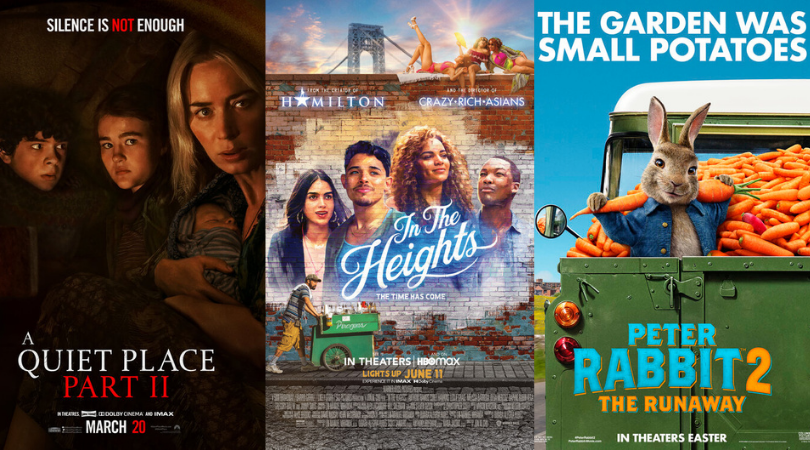 A QUIET PLACE PART 2 has reclaimed the #1 spot this weekend in a surprise upset, bringing in another $11.6M (Million), for a domestic total of $108.9M and a global haul of $185M. This is the first film to break the $100M threshold in the United States since the start of the pandemic, in a major victory for Paramount and theatrical moviegoing. Also worth noting that key markets are yet to open overseas. At a budget of $60M plus marketing, the film is already profitable for the studio, with expectations that it will earn more than $300M worldwide, and a third installment already set for 2023.
IN THE HEIGHTS opened at #2 with a disappointing $11.4M, well below expectations and representing a financial bomb for WB, with its budget of $55M plus a pricey marketing campaign which pumped another $20M just over the last two weeks. This is despite its high praise from critics and an "A" CinemaScore from audiences. Unfortunately this one never clicked with the mainstream crowds, and looks set to be a sharp financial loss.
PETER RABBIT 2: THE RUNAWAY opened at #3 with a so-so $10.4M debut, which is where Sony had been seeing it on tracking for weeks now, right in line with expectations. Overseas the film has brought in $45.8M, for a global total just over $56M. This is a vastly disappointing number for the studio, as the first film was a huge hit at $350M worldwide.
THE CONJURING: THE DEVIL MADE ME DO IT slipped to #4 with $10M, a domestic total of $43.8M, and a global total of $111.8M with key markets still yet to open. Produced for just $40M plus marketing, this will easily be profitable for WB, representing another success for the long-running "Conjuring" brand, including spin-offs.
CRUELLA is #5 with $6.7M, a domestic total of $56M, and a worldwide total of nearly $130M. This excludes Disney+ where it is playing via Premier Access, as the studio does not release those financial numbers. As such it is difficult to say whether the film is a success or failure, though Disney has already put into development a sequel with the original director and screenwriter returning, suggesting they are pleased with results.
SPIRIT UNTAMED is #6 with $2.5M and a total of only $10.9M for Universal.
HOUSE NEXT DOOR: MEET THE BLACKS 2 opened at #7 with $1M.
WRATH OF MAN is #8 with $615K, a domestic total of $26M, and an impressive global total of $124M. Produced for $40M plus marketing, this action/revenge film is already profitable for all involved. This number also excludes PVOD, where it has been topping the charts for over two weeks, after a 17-day exclusive theatrical window.
QUEEN BEES is #9 with a debut of $328K, also playing day-and-date theatrical and Premium Video On Demand (PVOD).
SPIRAL is #10 with $305K, a domestic total of $22.6M, and a $36M worldwide. It is also playing on PVOD now, though Lionsgate has not disclosed its financial performance.
Next weekend will see the release of THE HITMAN'S WIFE'S BODYGUARD which will be launching globally beginning this upcoming Wednesday, including an impressive push on 500 IMAX screens, in 14 markets. The original was a surprise success at $176M globally during August and September of 2017.