Image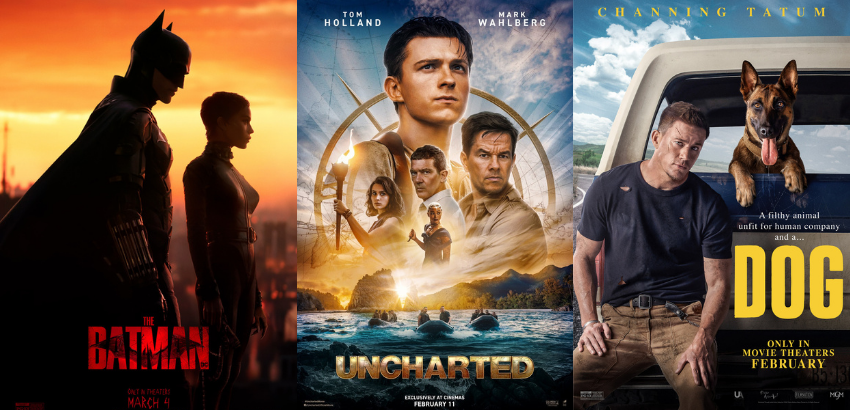 1. THE BATMAN opened in the top spot with a heroic $128.5M (Million) domestically and just shy of $250M global. Those numbers will possibly rise when final numbers are released. While strong, these numbers are lower than the opening weekend domestic totals for BATMAN V. SUPERMAN ($166M), THE DARK KNIGHT RISES ($160M), and THE DARK KNIGHT ($158M). With strong word-of-mouth and no direct competition, the film should demonstrate strong holds and a nice run throughout the month ahead, which it will need at a budget of $200M plus marketing costs. This should become profitable for WB, but it will not be able to cross the $1 Billion mark. However, it is still a respectable result, and a sequel is all but guaranteed. 
2. UNCHARTED held strong at number two with $11M, a domestic total now of $100M, and $271.5M global with China still on deck. Produced for $120M plus marketing, this will no doubt reach profitability for Sony, with talks of a sequel already underway. 
3. DOG kept on barking in third place with $6M for a strong hold, bringing the domestic total to $40M and an early $45M worldwide total with most of international yet to open. Produced for only $15M plus marketing, this will be profitable for United Artists Releasing by next weekend, with more to be earned. 
4. SPIDER-MAN: NO WAY HOME webbed up fourth place with $4.4M, a domestic total now of $786.4M, and $1.866 Billion globally. The only question now is whether the film can cross the $800M threshold domestically for Sony, giving the studio one more feather in its cap for this Marvel mega-hit. 
5. DEATH ON THE NILE swam to fifth with $2.7M, a domestic total of $37M, and just $105M worldwide. Produced for $90M plus marketing, it is a steep loss for 20th Century Studios and Disney. 
6. SING 2 kept the party going at sixth place with $1.5M, a domestic total of $153M, and an impressive $360M worldwide. Produced for $75M plus marketing, this has been a nice animated success for Illumination and Universal. 
7. JACKASS FOREVER landed in seventh with $1.3M, a domestic total of $54.4M, and $71.6M worldwide. Produced for only $10M plus marketing, this has been another hit for Paramount in what's been a strong comeback for the studio. 
8. CYRANO is eighth place with $683K and a domestic total of just $2.5M. Despite the critical praise, this will be a financial loss for United Artists Releasing.
9. GANGUBAI KATHIAWADI debuted in ninth place with $592K from Paramount Pictures International. Critically acclaimed, this is a decent result for a foreign-language title with a limited domestic foot-print, while most of overseas will not be reported, as Paramount only handles a select number of territories. 
10. SCREAM is tenth place with $570K, a domestic total of $80.2M, and $138.6M worldwide. Produced for only $24M plus marketing, this has been a nice hit for Paramount, with the next sequel announced to film during this upcoming summer. 
Next weekend will see the Bat Signal shine brightly at number one again, as the studios opted not to release any new titles. With absolutely zero new major releases on deck until Paramount's THE LOST CITY on March 25th, all eyes will be on how well THE BATMAN can retain its audience. 
LARRY LASKY
Twitter: @Larry_Lasky
Instagram: @Lawrence.Lasky