Image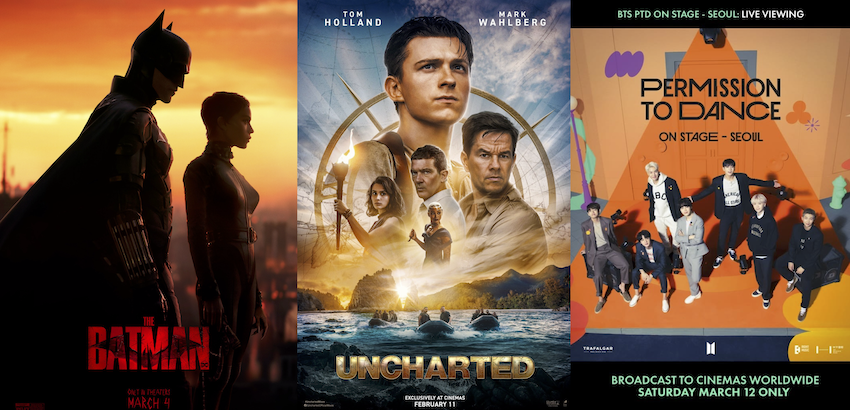 1. THE BATMAN stayed number one with a superheroic $66M (Million) second weekend, declining just -50% for WB. This was a tremendous hold, far above expectations and how comic book films typically perform after their debuts. The domestic total now stands at $238.5M and global is $463M and rising. Produced for $200M plus marketing, the film still has a ways to go before it becomes profitable, but there is no doubt it is getting there and will reach that benchmark by the end of next week, in what has been a needed victory for Warner Bros. and their DC Comics label. 
2. UNCHARTED keeps impressing in second place with $9.2M, a decline of only -16%. The domestic total has now climbed to $113.3M, and global is $301M, with China still on deck. Produced for $120M plus marketing, this is easily on the path to profitability for Sony, and very likely the start of a new franchise.
3. BTS PERMISSION TO DANCE ONSTAGE - SEOUL: LIVE VIEWING made a surprise splash with its claim to third place this weekend, bringing in $6.8M for Trafalgar Releasing, and giving the box office a solid extra boost from fans of the popular band. 
4. DOG howled in fourth place with $5.3M, a domestic total now of $47.8M, and $54M worldwide. Produced for only $15M plus marketing, this film has already become nicely profitable, with more to be earned for United Artists Releasing. 
5. SPIDER-MAN: NO WAY HOME slid to fifth with $4M, a domestic total of $792.8M, and $1.876 Billion globally as Sony continues their push to the $800M threshold in the United States, a stunning feat for Marvel's flagship hero.
6. DEATH ON THE NILE is sixth with $2.5M, a domestic total of $40.7M, and $119M worldwide. Produced for what is now pegged at $90M plus marketing, this is a sharp financial loss for 20th Century Studios and Disney.
7. RADHE SHYAM debuted in seventh place with $1.8M, a solid result for a foreign-language title, and in particular a period drama set in the 1970's. As is the case with most Indian releases, global information is not readily available, as the title was not released via traditional distribution in the United States.
8. SING 2 is eighth with $1.5M, a domestic total of $155.8M, and $366.8M worldwide for this Universal and Illumination animated hit. Produced for $75M plus marketing, this has become profitable enough that a third film seems likely.
9. JACKASS FOREVER is ninth place with $1.1M, a domestic total of $56.2M, and $75M worldwide. Produced for only $10M plus marketing, this has been wildly profitable for Paramount, continuing their winning streak. 
10. SCREAM is tenth place with $445K, a domestic total of $80.9M, and $139.3M worldwide. Produced for $24M plus marketing, this was a nice success for Paramount, with the next film in the horror franchise filming in the upcoming summer. 
Next weekend will see THE BATMAN rise to the top again, with no significant new releases until THE LOST CITY debuting March 25th, and major films lined up for every week after, culminating with DOCTOR STRANGE IN THE MULTIVERSE OF MADNESS launching the summer movie season on May 6th. 
LARRY LASKY
Twitter: @Larry_Lasky
Instagram: @Lawrence.Lasky