Image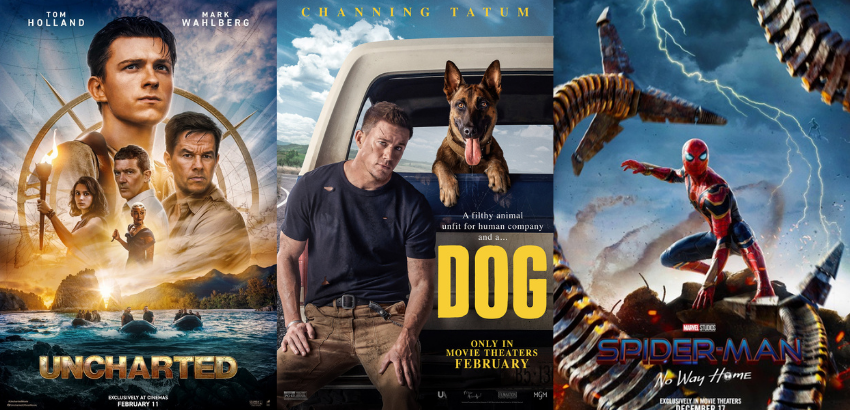 1. UNCHARTED set course for the number one spot over the 4-day weekend, with an opening haul of $51M (Million) domestically, and $139M global. Carrying a budget of $125M plus marketing costs, this will easily become profitable for Sony and is expected to launch a new franchise for the studio. Totals will soar over the coming weeks, including a March release in China, and audiences enjoyed what they saw with a B+ CinemaScore. 
2. DOG didn't have fleas at number two with a strong $18M debut, well above expectations. Budgeted at only $15M plus marketing, this will have no problem reaching profitability for United Artists Releasing, and is a good sign for Channing Tatum's star-power, as he will next be seen teaming up with Sandra Bullock in THE LOST CITY next month. 
3. SPIDER-MAN: NO WAY HOME continued Tom Holland's winning streak in third place with another $8.5M, bringing the domestic total to $771M, and global to $1.831 Billion for Sony and Marvel, with enough said about the film's stunning, record-breaking numbers. 
4. DEATH ON THE NILE sank to fourth place with $7M, a domestic total of only $26.2M, and $76M worldwide. Produced for $100M plus marketing, this will be yet another sharp financial loss for 20th Century Studios and Disney. 
5. JACKASS FOREVER held onto fifth with $6.1M, a domestic total of $47.6M, and $60M worldwide. Produced for only $10M plus marketing, this has already become profitable for Paramount, with more to be earned. 
6. MARRY ME tumbled to sixth place with $4.3M, a domestic total of $17.4M, and $36.5M worldwide. The good news for Universal is that the film only cost $23M plus marketing, and is well on its way to break-even range theatrically. 
7. SING 2 kept the music going at number seven, bringing in $3.7M to raise the domestic total to $148.2M, and global to a respectable $333M. Produced for $75M plus marketing, this has been a solid hit for Universal and Illumination. 
8. SCREAM was eighth place with $2.2M, a domestic total now of $77.3M, and $134M worldwide for Paramount. Produced for only $25M plus marketing, this has become a nice hit for the studio, with another sequel set to film this summer. 
9. BLACKLIGHT was number nine with $2M and a total of $7M, on the lower-end of Liam Neeson titles both before and during the pandemic-era. 
10. THE CURSED opened in tenth place with $2M for LD Entertainment, a weak number for any horror title. Expect this one to end up on PVOD in the coming weeks. 
Next weekend will again be ruled by Tom Holland and his UNCHARTED crew, with only CYRANO and STUDIO 666 opening, ahead of THE BATMAN which is on track for massive numbers when it debuts on March 3rd. 
LARRY LASKY
Twitter: @Larry_Lasky
Instagram: @Lawrence.Lasky