Image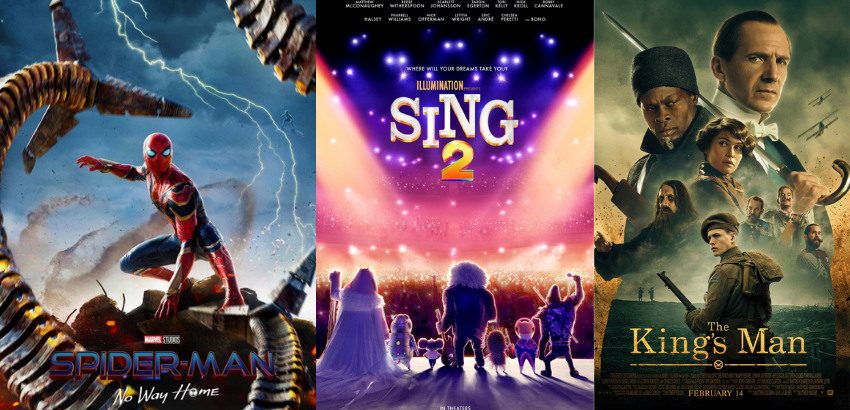 SPIDER-MAN: NO WAY HOME swung its way to the top yet again on this first weekend of 2022 with another $52.7M (Million) domestically, proving to be an unstoppable juggernaut at the box office. The domestic total now stands at a stunning $610M to enter the top ten of all-time, while global is now at $1.368 Billion and rising, with more records to be shattered throughout this January. 
SING 2 held onto second with $19.6M, a decline from last weekend of only -12%, to bring the domestic total to nearly $90M, and global to $144.5M. Produced for around $75M plus marketing, there is no doubt that this will be profitable for Universal and Illumination, as families have begun returning to theaters in more significant numbers than at any other point in the pandemic-era of moviegoing. 
THE KING'S MAN landed in third with $4.5M, a less than royal domestic total of $19.5M, and $47.8M worldwide. Produced for over $100M, this will be a sharp financial loss for 20th Century Studios and Disney, which inherited this film from Fox in the acquisition of the studio. Despite the popularity of the KINGSMEN franchise, this long-delayed prequel was lost in the holiday shuffle.
AMERICAN UNDERDOG is fourth place this weekend with $4M, a solid hold which has brought this film to a decent $15M total. Produced for under $10M plus a modest marketing campaign, this is shaping up to be the sleeper hit of the winter, and should prove nicely profitable for Lionsgate in the long-term. 
THE MATRIX RESURRECTIONS tumbled to fifth place with $3.8M, a disastrous domestic total of $30M, and $106M worldwide. Produced between $120-150M plus marketing, this is a significant financial loss for WB and just the latest in what was a long string of flops in 2021. The studio hopes to reverse its misfortune when THE BATMAN debuts in March, the first film to be theatrically exclusive since the launch of the studio's HBO Max hybrid release model. 
WEST SIDE STORY is sixth with $2.1M, a domestic total of only $29.5M, and just $52.7M worldwide, a horrible number for this Spielberg musical which cost $100M plus marketing, and will be another sharp financial loss for 20th Century Studios.
GHOSTBUSTERS: AFTERLIFE rose to number seven, jumping +17% for $1.4M, a domestic total of $123.3M, and almost $185M worldwide. Produced for $75M plus marketing, this film has essentially hit break-even range for Sony, and will reach profitability if not theatrically then across additional revenue streams. A sequel is likely, given the warm reception among fans and performance with family audiences even in the pandemic-era, though some are now catching up on this film during the holiday break. 
LICORICE PIZZA landed in eighth with $1.2M and a total of $6.3M for United Artists Releasing. The specialty market continues to struggle greatly, but this film is gearing up for a long awards run. 
A JOURNAL FOR JORDAN is ninth place with $1.1M, and a total of just $4.7M for Sony. Despite its star and director, this film landed with an unfortunate thud within the crowded holiday marketplace. 
ENCANTO is tenth place and likely to see its last weekend in the top ten, bringing in another $1M, a domestic total of $91.3M, and $206M worldwide. This film is now available on Disney+ to subscribers as well. 
Next weekend will see SPIDER-MAN and his amazing friends continue to rule the box office, with Universal's action/spy thriller THE 355 the only major new release. 
LARRY LASKY
Twitter: @Larry_Lasky
Instagram: @Lawrence.Lasky