Image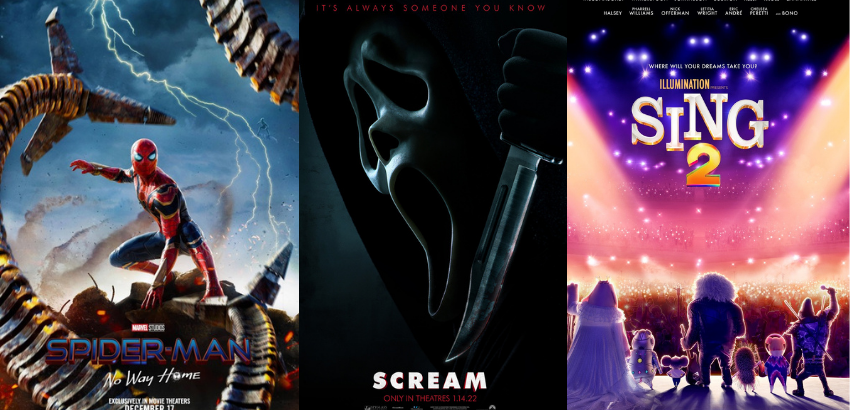 SPIDER-MAN: NO WAY HOME returned to the top spot in weekend six, after surrendering the win to Paramount last weekend. This frame was good for $14.1M (Million), a domestic total of $721M, and $1.691 Billion globally. Spidey and pals are now destined to crack the $1 Billion mark from international alone in the coming weeks, and this is all without a China release, as Marvel has effectively been banned in the country. The only question now is where this superhero epic ends up on the all-time list, with records being broken over and over again, sitting at the fourth highest-grossing film ever in the United States, and sixth highest globally, with the possibility of more for Sony and Marvel.  
SCREAM slid to second place with $12.4M, a domestic total of $51.3M, and $85M worldwide. Produced for $25M plus marketing, this has already becoming profitable for Paramount, proving the strength of horror in the marketplace. By the end of next weekend this will be well past the $100M mark globally. This is well ahead of the fourth film in the series, and it is almost assured that a sixth film will be produced, as this "re-quel" has been incredibly well-received by critics and fans alike. 
SING 2 held onto third place with $5.7M, a domestic total of $128.4M, and an impressive $241M worldwide. This is now the biggest animated film since the start of the pandemic, and in addition to big numbers being posted up on PVOD (Premium Video On Demand), where the film is also available for rental. Produced for $75M plus marketing, this has become nicely profitable for Universal, with more to be earned.
REDEEMING LOVE opened at fourth for Universal with only $3.7M, a disastrous result mitigated by the fact that the studio was only the distributor and was not on the hook for the budget or marketing expenses. This one will quickly vanish from theaters and should be available on PVOD soon. 
THE KING'S MAN is in fifth place with $1.7M, a domestic total of only $31.5M, and $105M worldwide. Produced for over $100M plus marketing, this is a sharp financial loss for 20th Century Studios and Disney.
THE 355 landed in six with $1.6M, a domestic total of only $11M, and $16.4M worldwide, another dud for Universal which has struggled over the winter with every other release besides SING 2. The studio will try to reverse their fortunes starting with MARRY ME over Valentine's Day, and into a summer stacked with major releases. 
AMERICAN UNDERDOG stayed in the hunt at seventh place with $1.2M, bringing the total to a decent $23M for Lionsgate on this faith-based football biopic. It's a decent result which combined with PVOD will bring this film to profitability. 
THE KING'S DAUGHTER debuted in eighth place with $750K for Gravitas Ventures, which picked up this long-delayed dud after years of sitting on the shelf. This will be a limited, quick theatrical play before going to streaming. 
WEST SIDE STORY landed in seventh with $1.4M, a domestic total of $32M, and only $53M worldwide. Produced for $100M plus marketing, this is a sharp financial loss for 20th Century Studios and Disney, though Spielberg's musical is anticipated to enjoy a lengthy run of award nominations.
LICORICE PIZZA is ninth place with $1M and a total of $8.1M, ahead of what will be a long awards run, where the film is expected to garner a plethora of nominations.
Next weekend will again be ruled by the spectacular SPIDER-MAN, as there are no new major releases on deck until JACKASS FOREVER and MOONFALL on February 4th, to kick off what will be a busy and lucrative late winter month at the box office.
LARRY LASKY
Twitter: @Larry_Lasky
Instagram: @Lawrence.Lasky