Image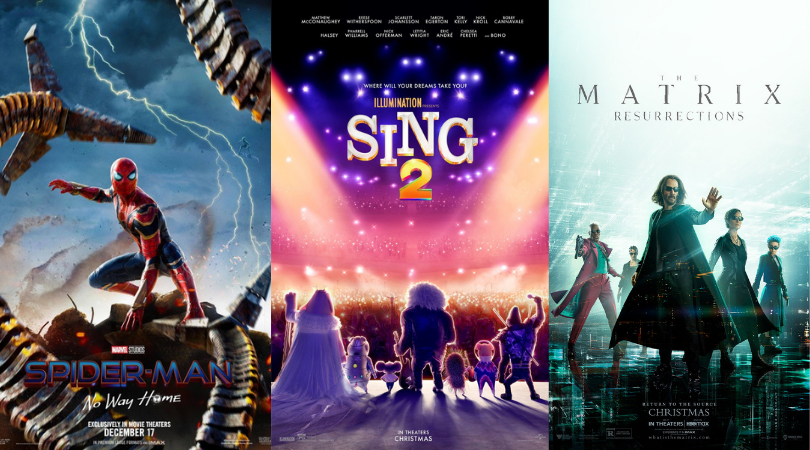 SPIDER-MAN: NO WAY HOME ruled the top spot again with $81.5M (Million) for the Christmas weekend, bringing the domestic total to an impressive $467M and the global haul to a stunning $1.05 Billion, among the fastest titles to ever reach that benchmark and the first film since 2019's THE RISE OF SKYWALKER to pass $1 Billion at the box office. This is all without China as well, a feat only a few films have ever accomplished, including WB's JOKER. More impressive, with a holiday week ahead and with more international territories yet to open (including Japan) there is no telling how high Marvel's flagship superhero will climb as one of the MCU's biggest hits of all-time. 
SING 2 opened in second place with $23.7M over three days, a five-day total debut of $41M domestically, and an early $65.8M worldwide. There is much more business ahead for this Universal and Illumination sequel, which cost around $75M to produce and will assuredly be profitable, with the potential to mirror the long and lucrative run of the first film, as holiday family pics typically enjoy a strong multiple, especially over the Christmas break with many children out of school through New Year's. Expect bigger numbers ahead. 
THE MATRIX RESURRECTIONS opened disastrously in third with only $12M, a total domestic debut of $22M, and almost $70M worldwide. This is far from the $40M+ which WB was anticipating, and just the latest and last of the year in what was a long line of flops throughout 2021. Blame both the studio's product and the day-and-date HBO Max experiment, which is officially concluded with this release. The studio hopes to reverse its fortunes starting in March with THE BATMAN, ahead of its sale to Discovery and what has been positioned as a top-down change of direction.
THE KING'S MAN had it even worse than Neo and Trinity, opening in fourth with a horrible debut of $6.3M over the weekend, $10M since launch, and only $16.9M worldwide. This was a long-delayed title from 20th Century Studios, but audiences were not enticed to show up to a prequel to the popular KINGSMEN franchise. 
AMERICAN UNDERDOG opened in fifth with a solid two-day start of $6.2M, exactly where Lionsgate expected. As both a faith-based and true sports story, this is expected to have a strong showing over the holiday break, and could become the sleeper hit of the season depending on how it holds up. 
WEST SIDE STORY slid to sixth this weekend, with $2.8M, a domestic total of $23.9M and only $36.2M worldwide. Produced for $100M plus marketing, this is a sharp financial loss for 20th Century Studios and Disney, despite critical acclaim and what looks like a strong upcoming awards run for Steven Spielberg's musical adaptation. 
LICORICE PIZZA expanded its way into seventh place with $2.3M and a total of $3.6M for United Artists Releasing. This is a solid start for the specialty title which is playing in only 786 theaters across the United States, and is widely considered another awards favorite. 
A JOURNAL FOR JORDAN made its debut at number eight with a disappointing $2.2M for Sony, continuing to highlight the troubles of adult-skewing fare at the box office during the pandemic. This is just the latest title to struggle, despite Denzel Washington directing and Michael B. Jordan starring in the romance/drama, which will be a moderate financial loss for the studio. 
ENCANTO collapsed in ninth place with $2M, a domestic total of $88M, and $193M worldwide. This is because the film made its anticipated debut on Disney+ where many families likely watched over the holiday, and because Sing 2 became the animated title to watch at the multiplex. Viewership numbers on Disney+ have not yet been released. 
'83 opened in tenth with $1.7M, a strong number for this foreign-language title coming from Reliance Entertainment, and playing in just 481 theaters. The per-screen average was also solid at $3.6K per location on this true story sports drama. 
Next weekend will end 2021 and ring in 2022 with SPIDER-MAN staying atop for the third time and with no major new releases until the following weekend. As a holiday week with students on winter break, every day from now through New Year's will essentially play like a Saturday, leading to big business at multiplexes across the country. 
LARRY LASKY
Twitter: @Larry_Lasky
Instagram: @Lawrence.Lasky