Image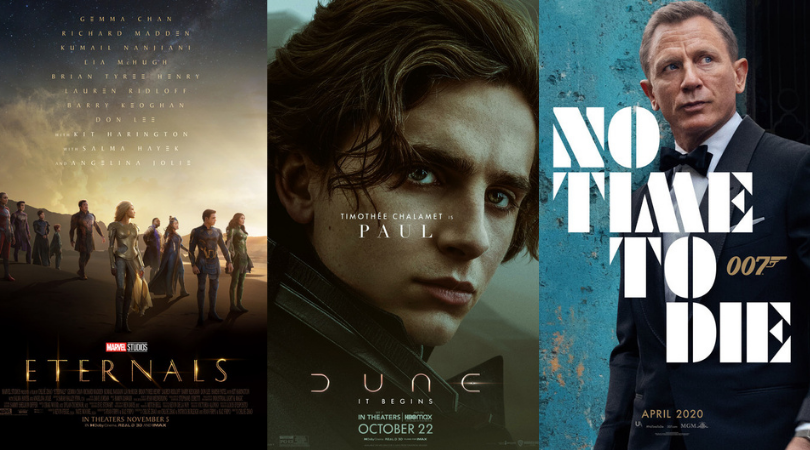 ETERNALS opened at #1 with a decent $71M (Million) domestic debut, and $161.7M global launch. This is on the lower-end of expectations for a Disney and Marvel Studios release in November, and is further compounded by a "B" Cinemascore from audiences and poor critical reviews, which definitely played a role in impacting ticket sales this weekend, and could further dampen expectations in the coming weeks. As of now, international is coming in above where tracking had it, which is offsetting the weaker U.S. debut. However, with a budget of $200M plus marketing, this one is still a long ways off from being profitable for the studio, and will need strong holds to reach that benchmark. 

DUNE slid to #2 with $7.6M, a domestic total of $83.9M, and $330.4M worldwide. Produced for $160M plus marketing, this still needs more to reach break-even for Legendary and WB, and might not reach that goal. Despite this, the sequel has already been announced and scheduled, with the hope that theatrical exclusivity and positive response to this first film will further grow the audience for the second half of the adaptation. 

NO TIME TO DIE is #3 with $6.1M, a domestic total of $143.1M, and $667.4M worldwide. The film will soon pass the $700M global benchmark to become only the second title this year to reach that goal, after Universal's F9. Produced for $250M plus marketing, this is not going to be profitable theatrically, but is hitting PVOD on Tuesday for rental, and should ultimately be profitable once all ancillary revenue sources are factored in. 

VENOM: LET THERE BE CARNAGE is #4 with $4.4M, a domestic total of $197M, and a terrific $424.6M worldwide for Sony. This title will pass the $200M mark domestically this week, becoming only the second film this year to reach that milestone in the U.S., after fellow Marvel hero SHANG-CHI. Produced for $110M plus marketing, this is already profitable for the studio, with much more to be earned internationally, despite an apparent blackout/ban in China, where the first VENOM earned more than $200M in that market alone. A third installment is already planned, likely to crossover with SPIDER-MAN. 

RON'S GONE WRONG is #5 with $3.6M, a domestic total of $17.5M, and a decent $46.4M worldwide for 20th Century Studios. While not nearly enough to be profitable, strong holds and international grosses have mitigated losses on this holdover title which Disney inherited in its acquisition of Fox. 

THE FRENCH DISPATCH is #6 with $2.6M, flat from last weekend, to bring the domestic total to $8.4M, and $15.8M worldwide. Produced for $25M plus marketing, this specialty title is unlikely to be profitable, but has been a rare bright spot in an otherwise struggling area theatrically, as older audiences which fuel specialty releases have proven the least likely to return to cinemas during the pandemic era. 

HALLOWEEN KILLS is #7 with $2.3M, a domestic total of $89.7M, and $126.9M worldwide. There is no doubt that the Peacock release and piracy have played a role in depressing the grosses especially in overseas markets, though with a budget of just $20M plus marketing, this Blumhouse and Universal release has already proven profitable, with the third part of the trilogy due next year. 

SPENCER opened at #8 with a disastrous $2.1M for Neon, further underscoring the struggles which the specialty market has endured. Even a strong critical response couldn't entice the target audience for this film to come out, unfortunately. 

ANTLERS is #9 with $2M and a total of $7.6M domestically. Global on this low-budget horror release is $12.6M. 

LAST NIGHT IN SOHO collapsed at #10 with $1.8M, a domestic total of only $7.6M, and $12.8M worldwide. Produced for $43M plus marketing, this will be a sharp financial loss for Focus Features. 

Next weekend will be ruled by Marvel's Eternal heroes once again, as only CLIFFORD THE BIG RED DOG and BELFAST make their debuts, each hoping to connect with their respective audiences and play through the Thanksgiving holiday. Things only get busier from there, with GHOSTBUSTERS: AFTERLIFE, KING RICHARD, Disney's ENCANTO, and HOUSE OF GUCCI all debuting in the coming weeks.