Image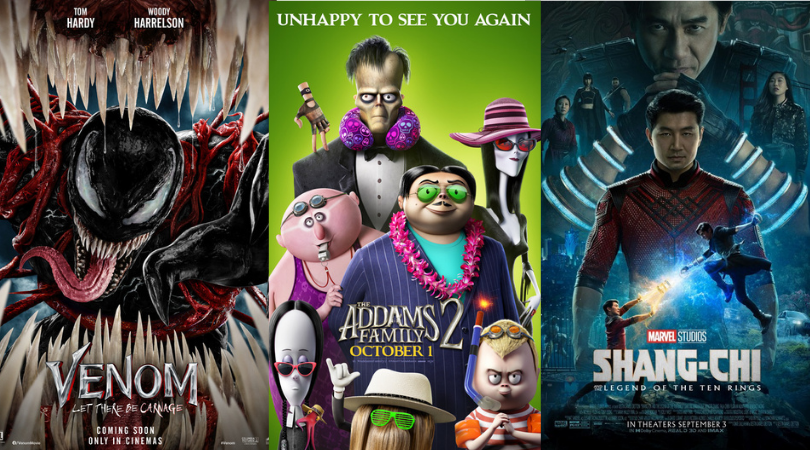 VENOM: LET THERE BE CARNAGE opened at #1 with a massive $90M (Million) debut, the best three-day total since the beginning of the pandemic, second biggest October debut ever behind JOKER at $96M, and a bigger debut than the first VENOM, which scored an impressive $80M in October 2018. Overseas, the sequel posted an impressive $13M out of Russia, with the vast majority of international yet to debut. China has no release date yet, but is expected to play in that territory, a huge market for the original. Produced for $110M plus marketing, this Sony smash sequel is well on its way to profitability.
THE ADDAMS FAMILY 2 opened at #2 with a solid $18M, one of the best showings for a family title during the pandemic and more impressive given that the film is also available for streaming purchase via PVOD (Premium Viewing On Demand). Produced between the $25-30M range plus marketing, this one should also prove profitable, albeit less than the $203M global haul of the 2019 animated adaptation.
SHANG-CHI AND THE LEGEND OF THE TEN RINGS is #3 with $6M, a domestic total of $206M and just shy of $387M worldwide. It is the first film of the pandemic era to make more than $200M in the United States, a significant milestone. Produced for $150M plus marketing, this one is still struggling to reach profitability however without a China release date and with an international market which has been struggling to ignite overall. That said, it will ultimately be profitable for Disney and Marvel, and no doubt spawn a sequel.
THE MANY SAINTS OF NEWARK opened dismally at #4 with just $5M for WB. It is now the fourth Warner Bros. film in a row to open to less than $10M in its debut, a stunning string of failures for the studio. Produced for $50M plus marketing, this will be another sharp loss, with DUNE hoping to reverse their misfortunes.
DEAR EVAN HANSEN is #5 with $2.4M and a total of only $11M for Universal, representing a rare flop this year from the studio. Produced for $28M plus marketing, it will be a moderate loss, and continues to demonstrate how older-skewing titles are struggling at the box office, with key middle-age demographics the most hesitant to step back into a movie theater.
FREE GUY is #6 with $2.3M, an impressive domestic haul of $117.6M, and more than $320M worldwide. Produced for $110M plus marketing, this original has become a nicely profitable success story for Disney and 20th Century Studios.
CANDYMAN is #7 with $1.2M, a domestic total of nearly $59M, and more than $75M worldwide. Produced for $25M plus marketing, this horror reboot has posted a solid profit for Universal, and represents another win for Jordan Peele's brand.
JUNGLE CRUISE is #8 with $680K, a domestic theatrical haul of $116M, a global theatrical total of $210M, and combined with Disney+ Premier Access, a complete total of more than $340M. Produced for $200M plus marketing, this has been good enough to reach break-even range for Disney, which has already put a sequel into active development.
JESUS MUSIC is #9 with $560K.
TITANE is #10 with $515K and $3M worldwide.
Other Notables: NO TIME TO DIE opened internationally with a tremendous $119M. This debut in like-for-like markets is ahead of SKYFALL and just below SPECTRE, earning nearly $30M above expectations. This is before the U.S. debut and expanded global rollout, which also has China on deck. For a film which needs around $800M to reach profitability, it is a great start and promises a fantastic run ahead for Daniel Craig's final outing as 007.
DUNE also continues to impressive, having now passed the $100M mark internationally, with many key markets, including the U.S. and China, yet to open.
Next weekend, NO TIME TO DIE will enter the United States, tracking for another massive debut as October's hot streak continues. Still on deck later in the month are titles which include HALLOWEEN KILLS from Universal, and DUNE from WB and Legendary.