Image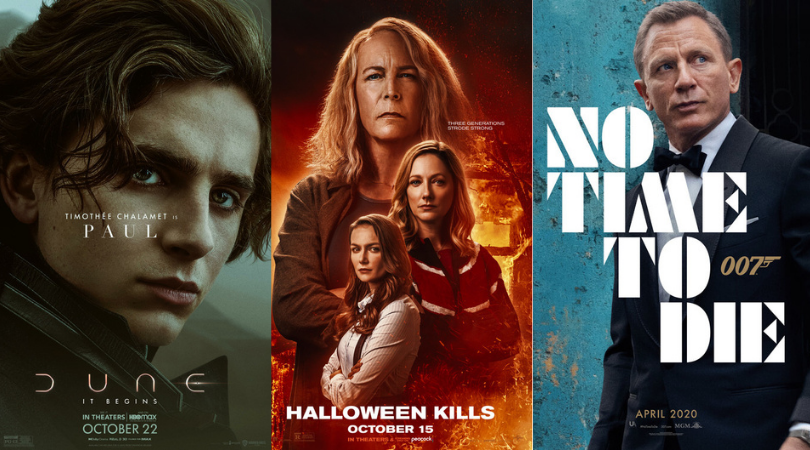 DUNE opened at #1 with $40.1M (Million) domestically, and a new global total of $220.7M with much more to be earned. This represents the best opening weekend for WB since 2019, and also the fourth weekend in a row with a new release debuting to over $40M. All in, these are impressive stats, and even with a day-and-date release on HBO Max, DUNE is now expected to hit break-even range if not profitability for Legendary and WB during its theatrical run, carrying a budget of $160M plus marketing. All expectations are that the second half of the adaptation (this film is billed in the opening credits as DUNE PART ONE) will be greenlit by the studio. 

HALLOWEEN KILLS fell to #2 with a steep -70.7% decline, bringing in $14.5M for Universal and Blumhouse. The domestic total now stands at a terrific $73.1M and global is at an early $90M, meaning this film is already nicely profitable. The budget was around $20-25M plus marketing costs, and the final installment of the trilogy, HALLOWEEN ENDS, is already set for release next October. 

NO TIME TO DIE is #3 with $11.8M, a domestic total of $120M, and $525M globally, representing the second biggest title of the year worldwide. Produced for $250M plus marketing, this film will definitively reach the break-even range theatrically, and could even climb its way to being profitable thanks to its international numbers. Either way this has proven a win for the theatrical marketplace, and will ultimately bring in a profit once all ancillary revenues are factored in. 

VENOM: LET THERE BE CARNAGE held at #4 with $9.1M, a domestic total of $181.8M, and $352M worldwide, with many international markets yet to open. Produced for $110M plus marketing, this has already become profitable for Sony, with a lot more to come. This film is still on track to pass $200M domestic, and should end up with over $500M worldwide, even without China, which was a significant market for the first film. As teased by the ending of this one, a crossover with SPIDER-MAN is next on deck for the symbiote superhero, as Sony continues to build out its Marvel properties. 

RON'S GONE WRONG opened at #5 with a disastrous $7.3M for Disney and 20th Century Studios. This was an acquisition title by the House of Mouse however, a holdover from the Fox era with minimal investment, which did carry a contractual theatrical obligation. 

THE ADDAMS FAMILY 2 is #6 with $4.3M, a domestic total of $48.3M, and $66.9M worldwide. Produced for around $25M plus marketing, this will be solidly profitable, albeit at much lower numbers than the 2019 film. 

THE LAST DUEL is #7 with $2.1M, a domestic total of only $8.2M, and $17.7M worldwide, representing a costly flop from Ridley Scott and 20th Century Studios. 

SHANG-CHI AND THE LEGEND OF THE TEN RINGS is #8 with $2M, a domestic total of $221M, and $417M worldwide, a decent though unspectacular result for Disney and Marvel, underscoring the pandemic-era challenges both have faced this year. With high audience marks and a strong domestic performance, a sequel is still assured. 

THE FRENCH DISPATCH opened at #9 with an impressive $1.3M from just 52 theaters, representing a needed win for the specialty market. 

HONSLA RAKH is #10 with $490K and a total of $1.8M. 

Next weekend sees the release of LAST NIGHT IN SOHO timed for the Halloween holiday which falls on Sunday this year, while all eyes shift to the busy November ahead, which will kick off with Disney and Marvel's ETERNALS.