Image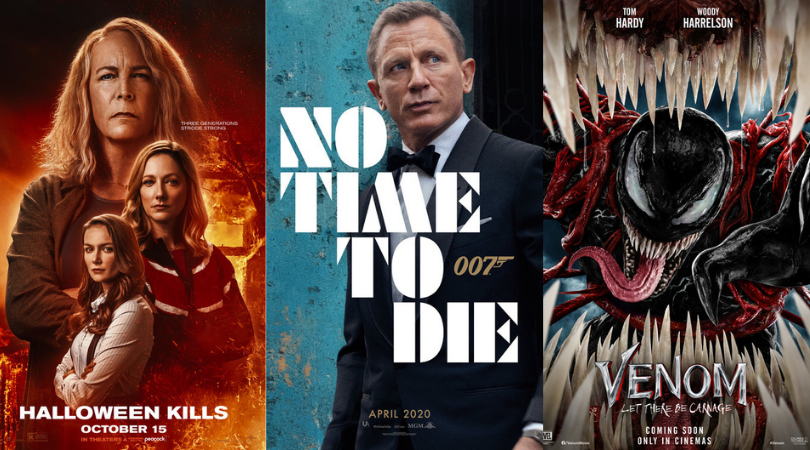 HALLOWEEN KILLS opened at #1 with a hugely impressive $50.4M (Million) domestic launch, to represent the third film in a row to open to $50+, the third weekend in a row where all films have totaled $100M+ in combined grosses, and the best R-rated opening of the pandemic era, ahead of A QUIET PLACE PT. 2. It is also the best opening for any film which also debuted day-and-date on a streaming service, with this one also available for rental to paid subscribers of Peacock. With a budget just over $20M plus marketing, this Universal and Blumhouse release is already well on its way towards profitability, with a third and final installment of the trilogy, HALLOWEEN ENDS, already set for next October.
NO TIME TO DIE held at #2 with $24.3M, a domestic total of $99.5M, and a worldwide total of $447.5M, with China still on deck in just 12 days. With a budget of $250M plus marketing, this film is still a long way off from being profitable, but could still barely reach that point. In the least, it will finish its theatrical run in the break-even range, and ultimately prove to be profitable via home release across streaming, PVOD, physical media, etc.
VENOM 2 is #3 with $16.5M, a terrific domestic haul of $168M, and an early $283.7M global total after adding $62M internationally this weekend with key markets yet to open, including China, which has yet to secure a release date but is still anticipated to. Produced for $110M plus marketing, this Sony hit will be profitable after next weekend, with much more to be earned across the world.
ADDAMS FAMILY 2 is #4 with $7.2M, a domestic total of $42.3M, and $58.5M worldwide with most of international still on deck. Produced for around $25M, this animated sequel is well on its way to being profitable.
THE LAST DUEL opened at #5 with a horrible $4.8M debut for 20th Century Studios and Disney, which acquired the film during its acquisition of Fox. This will prove an expensive misfire and further demonstrates the struggle all releases have with older audiences, who are among the last and least likely to return to the movie theater despite the resurgence of the theatrical marketplace.
SHANG-CHI AND THE LEGEND OF THE TEN RINGS is #6 with $3.5M, a domestic haul of $218M, and $414M worldwide. International is finally set to crack the $200M mark by next weekend or so, without China, where the film is no longer likely to see a release. All told the Disney and Marvel film has legged out enough to essentially become profitable on a budget of $150M plus marketing, and will assuredly have a sequel.
FREE GUY is #7 with $680K, a domestic total of $120.8M, and a terrific $328M worldwide as it wraps up its run. With a budget of around $110M plus marketing, this was a nice original success for 20th Century Studios and Disney, and already has a sequel in active development.
LAMB is #8 with $543K and a total of $2M.
MOST ELIGIBLE BACHELOR opened at #9 with $470K.
CANDYMAN is #10 with $460K, a domestic total of $60.8M, and a worldwide total of $77M. Produced for $25M plus marketing, this has been a very solid horror hit for Universal, successfully revitalizing an iconic character for both a returning and younger audience.
Next weekend sees the long-anticipated release of DUNE, along with animated family title RON'S GONE WRONG, and THE FRENCH DISPATCH, as the busy and lucrative October schedule continues on, headed towards the massive debut of Marvel's ETERNALS kicking off what will be an even busier November.