Image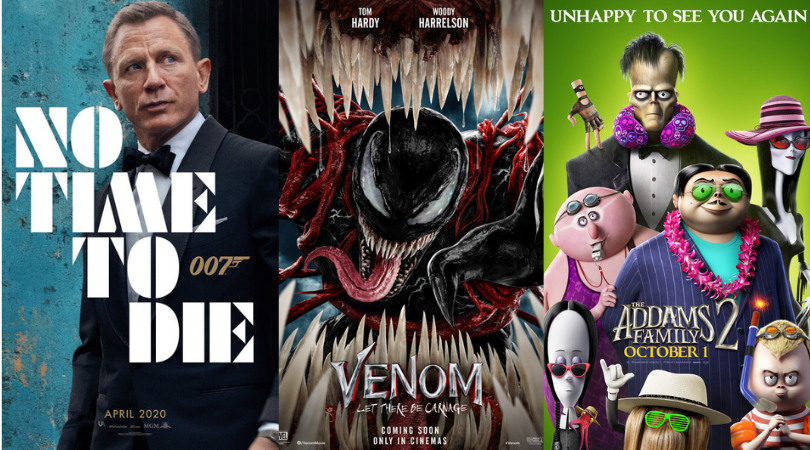 NO TIME TO DIE opened at #1 with $56M (Million), in line with tracking but far below expectations. After finally making a long-awaited debut in the United States, this is only the fourth best of Daniel Craig's Bond films, and represents a sharp decline from both SKYFALL and SPECTRE, as older audiences are still slow to return to theaters. It's a challenge which has faced multiple releases and will face more this fall and winter, but for Bond in particular this means that at a $250M budget, marketing spend upwards of $100M, and costs incurred by the various delays, the film has no chance at clearing the $800M globally needed to be profitable. With worldwide at $313.2M right now, the question is how big of a loss MGM will face when all is said and done. The good news is that a sale to Amazon is expected to close soon, and that the enduring JAMES BOND franchise will continue. 

VENOM: LET THERE BE CARNAGE held at #2 with $32M, a decline of -64.5% from opening weekend and right on average with superhero films. The domestic total now stands at $141.6M and the early global total is $185.5M, with much more to be earned. International is a staggered rollout, with expansions throughout the month. Produced for just $110M plus marketing, this sequel is well on track towards profitability and being a nice, unmitigated success for Sony. 

THE ADDAMS FAMILY 2 is #3 with $10M, a domestic total of $31M, and an incredibly early $35M worldwide, with most of international yet to open. Produced for around $25M plus marketing, this should be profitable for all involved. 

SHANG-CHI AND THE LEGEND OF THE TEN RINGS is #4 with $4.2M, a nice domestic total of $212.4M to be the best of the pandemic era in the United States, and $401.5M worldwide. A China release is highly unlikely, which has depressed the global total for Disney and Marvel. However, with a budget of $150M plus marketing, this has inched towards profitability for the studio, and will assuredly see a sequel. 

THE MANY SAINTS OF NEWARK is #5 with $1.4M and a total of only $7.4M. Warner Bros. spent $50M plus marketing on this film, which will see a significant loss for the studio as this year has produced an unprecedented losing streak, with WB's fortunes not looking to improve much until THE MATRIX and THE BATMAN make their debuts in December and March, respectively. 

FREE GUY is #6 with $1.3M, an impressive $119.6M domestically, and $326M worldwide. With a budget of $110M plus marketing, this has been a solid hit for Disney and 20th Century Studios, with a sequel already in development. 

LAMB opened at #7 on the specialty market with a $1M debut for A24.

DEAR EVAN HANSEN is #8 with $1M, and a total of only $13.7M for Universal. This one will be a rare loss for the studio in what has otherwise been a successful year. 

CANDYMAN is #9 with $700K, a domestic total of $60M, and $76M worldwide. Produced for $25M plus marketing, this has become a nicely profitable horror hit, and will likely spawn another sequel, successfully rebooting the popular IP. 

JUNGLE CRUISE is #10 with $214K, a domestic total theatrically of $116.5M, $211M worldwide, plus at least $125M on Disney+ Premier Access, for a complete total of nearly $350M across all formats. Produced for $200M plus marketing, this one essentially has broken even for Disney, and the studio has announced sequel plans. 

Next weekend sees debuts for Universal and Blumhouse's HALLOWEEN KILLS, along with Ridley Scott's THE LAST DUEL, as October continues to be a busy month for multiplexes, with DUNE and LAST NIGHT IN SOHO still notably on deck.