Image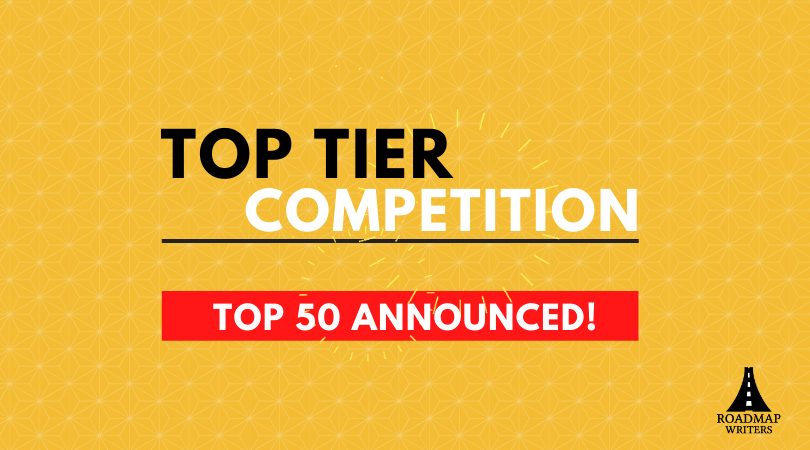 Roadmap is excited to announce the Top 50 for the 2022/2023 Top Tier Competition!
For the next stage of the competition, our Semifinalists will submit a 3-minute video pitch of their project. One winner will ultimately be selected and crowned the winner of this year's competition! They will receive one year of Roadmap's Top Tier program.
At the pinnacle of all our programs, the Top Tier Program is where the bulk of our screenwriting success stories come from. Through the Top Tier Program, writers from all over the world have signed with representation, landed writing assignments with, and/or have had their scripts optioned/bought by top companies in the industry.
And now we're pleased to announce the... 
TOP 50
| | |
| --- | --- |
| Writer(s) Name | Script Title |
| Marina Michelson | ANOUSHKA |
| Sean Fitz-Gerald | BENEATH THE OKANAGAN |
| Josh Taylor | BLACKLAND COUNTY |
| Laura Mannino | BODICE RIPPERS |
| Shayla Durbois | BOHAN THE MAGE |
| James Murphy | BS |
| Ben Monaco | CALL OF THE VOID |
| Chelsea Lerond | CAN YOU HEAR ME? |
| Stephen Polakiewicz | DARK MAGIC KINGDOM |
| David Schroeder | DEEP RESERVATIONS |
| Tristan Young Mercado | DEMENTED |
| Matt Foss | ELEVEN ELEVEN |
| Logan Shaw | FIVE SWORDS UNDER HEAVEN |
| Jade Shine | FLAGS |
| Annie Kaempfer | FOURTH TRIMESTER |
| Ben Escobar | FREED FROM DESIRE |
| Jay Thomas & Jon Wierenga | H.O.A. |
| Ryan Thomas Riddle | HARDBOILED QUEER -- ""ORPHEUS"" (PILOT) |
| Briana Cox | INDIGENT |
| Megan Mazer | INJURED |
| R.L. Hooker | KEEPER |
| Adam Santa María | LA MADRINA |
| Blake Kaiser | LOVEBUG |
| Colin MacLeod | OAK RIDGE |
| STAN EVANS | OK BOOMER |
| Kranti Pally | PERILS OF THE INVISIBLE WORLD |
| Curtis Clark | REAP / SOW |
| Goldie Jones | RUSSIAN DOLLS |
| Kate Imy | SARWI |
| Curt McCray | SCAVENGE |
| Stephen Krespel | SNAKES ON A TEN CAR TRAIN |
| George Basiev | SOLICE |
| Ernest Pysher | TERROR AND VIRTUE |
| Bridget Visser | THE COVEN |
| Hunter Davis | THE DROME |
| Michael Haas | THE HATTER |
| Daniel Van Nostrand | THE IDLERS |
| Kayla Hardy | THE QUARTER QUEEN |
| Edward Grey | THE SINGING TELEGRAMS |
| Jessica Jiji | THE SONGSTRESS OF BAGHDAD |
| Mikael Holcombe-Scali | THE TITANOMACHY: FROM DARKNESS |
| Andrew Varhol | THE TREMENDOUS TALE OF THE TIBURON PIRATES |
| Meemee Taylor | THE VESSEL |
| Alicia McClendon | THE WOMAN WHO KNOWS |
| Nathan Knapp | TONY PEPPERONI'S |
| Ryan Dooley | TOPHER & NATE & THE INVADERS FROM MARS |
| Helen Christabel Parker | UNDER PRESSURE |
| Kevin Jiggets | "VANDROSS" (YOUR SECRET LOVE) |
| Irene Hernandez & Kelsey McConnell | VERONICA LA MUERTA |
| Calamity J | WE-MEN |