Image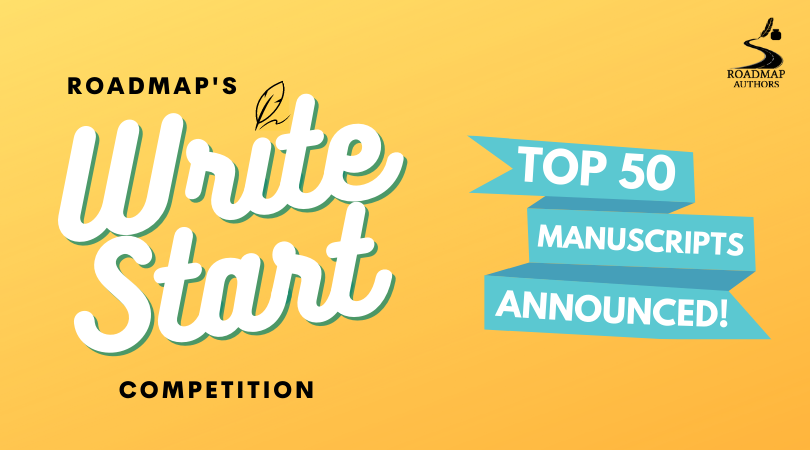 Top 50 - 2021 Write Start Competition
Roadmap is so excited to announce our quarterfinalists in this year's Write Start Manuscript Competition! Write Start is designed to help authors make the connections they need to break into the publishing world.
In an impressive collection of entrants, these authors were true standouts. Stay tuned, as we'll continue to announce how these contenders advance towards the Top 25.
And now we're pleased to announce the...
TOP 50
| | |
| --- | --- |
| Authors | Project Title |
| Wayne Christensen | THE WITCHINGS OF KING JAMES |
| Sam Haynie | BRIDE OF LA LOUISIANE |
| Anna Bierhaus | JANE UNKNOWN |
| Mal King | THE RUSTLING OF A WING |
| Richard Willett | A FRIEND OF DOROTHY'S |
| Pamela Winfrey | SORRY OSCAR |
| Christopher Backs | THE FOURTH YEAR |
| Mary Byron | NO ORDINARY LIFE - AWAKENINGS IN THE FINAL DAYS OF APARTHEID |
| Bill Hargenrader | MARS JOURNEY |
| Eric Murphy | BLOWBACK |
| Kathryn Orwig | THE SEA CHILD |
| Adam Chanzit | STUMBLING ALONG THE WAY |
| Rachel Fischer | THE PIPER'S SONG |
| Alex Kipp | BETTER! FASTER!: A CHRONICLE OF TECHNOLOGY-DRIVEN CHANGE |
| Chritine Autrand Mitchell | KEEPERS |
| Ryan Trimble | WHAT WE TURNED ON 23RD |
| Samah Jebbari | SAMAH, UNVEILED |
| Dennis Coleman | THE WAY OF THE SNAKE |
| Darice Clark | CALL ME NIA |
| Joanne Redding | UNLACED SHOES |
| Arthur Geis | THE CARDINAL |
| Sanetta Gipson | OUR FAMILY SECRET |
| Mark Jenkins | THE FIVE LORDS OF EXISTENCE |
| Julia Ward and Bookie Daniels | SIGNS OF (UN)INTELLIGENT LIFE |
| Jamie Eubanks | HIDDEN DOORS, SECRET ROOMS |
| Morgan Hatch | GONE TO GROUND |
| Marie Roughan | DESIGNER COFFINS |
| Sophie Neville | THE MAN WHO GOT OUT OF JAPAN |
| Christie Allen | EARTH TO ANDROMEDA: HURTLING TOWARD CALAMITY |
| Eafat Newton | SHE'S GOT TO BE KIDDING |
| Bonnie Ilyse Tunick | ANGEL'S BREW |
| Lenore Bechtel | THE SENSIBLE YEAR |
| Kathleen Dugan-Benlarbi | DIVORCE: AMERICAN STYLE, CIRCA 1986 |
| Carol Bass | CROWNS OF CAPFICI |
| Tony Clemente Jr | THE SUMMER IS MAD |
| Mark Mitchell | THE PRANKING OF PERSONALGRWTH.COM |
| Robert Walcott | ROSE COLORED GLASSES |
| Travis Lemke | LUNATIC LAUNDRY |
| Barbara Rose | THE HEART OF HILLCREST |
| Sarah Marsh | LA MOCHILA EXPRESS |
| Trace Abeyta | THE GENE SHOW |
| Michael Stanton | PARADOX ROCKS |
| David Greis | THE CINEMATIC SUICIDE CLUB |
| Abigail Somma | WHAT THE HUMMINGBIRDS TAUGHT ME |
| Lincoln Christie | BRAND OF A WITCH |
| Thomas Schemkes | THE HUNT FOR JESUS |
| Chris Willis | FIRE ON HIGH; A STORY OF WWII, SMOKEJUMPERS, AND TIME TRAVEL |
| Kathleen Caprario-Ulrich | STANDING IN WATER |
| Scott Coon | ATHEIST REGIMENT |
| Oliver Silver | TEARS OF A SHADOW |