Image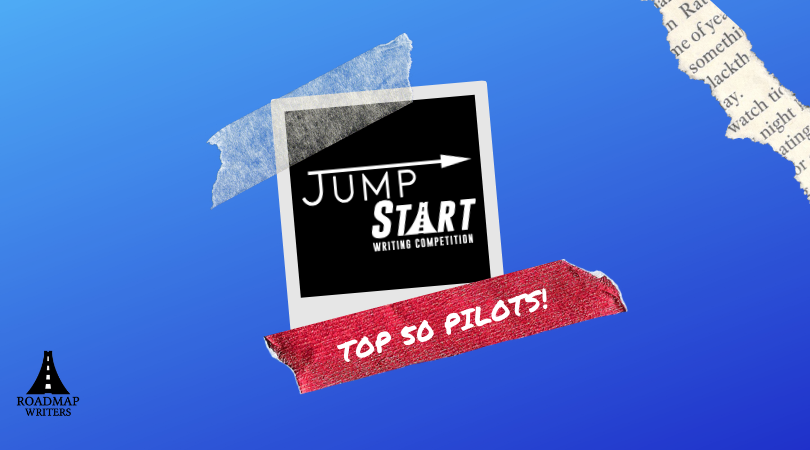 Top 50 Pilots - 2020 JumpStart Writing Competition
Roadmap Writers is excited to announce the Top 50 pilots for the 2020 JumpStart Writing Competition.
JumpStart leverages the reach and resources of Roadmap Writers to advocate for these talented emerging voices and put their work in front of dedicated and hungry industry professionals. This year's judging panel includes execs and reps from companies such as 3 Arts Entertainment, Kaplan Perrone, Circle of Confusion, Gotham Group, Fourth Wall Entertainment, Zero Gravity, and many more.

So while we still have a several weeks until we announce our Grand Prize winners in December, we just wanted to take a moment and say thank you for being a part of this year's competition.
And now we're pleased to announce the...
Top 50 Pilots
| | |
| --- | --- |
| AMERICAN EASY | Judd Schlossberg |
| ANGELS OF WAR | Natalie Bergman & Victoria Rau |
| APOCALYPSE | Joshua Koffman |
| BEST BITCH | Rachel A. Hein |
| BLOOD OF THE VINE | Daniel Kavanagh |
| BLOODY JAZZ | James Marios Ellinas |
| CHAOS THEORY | Ben Silver |
| CHOSENVILLE | Jessica Kane |
| DEBBIE | Matt Thomas |
| FLOP N RAGE | Jimmy Prosser & Rohan Shankar |
| GAME OF TWINS - "BLACK CROSSES" | Tom Ranseen |
| GAYBIES | Keshia Coe |
| GERIOSITY | Barbara Ward Thall |
| GO ASK ALICE | JoAnn Hess |
| GOOD VIBES ONLY | Kyra Jones |
| HEAVY | Collette Legault |
| HOW JANE AUSTEN RUINED MY LIFE | Teresa Warner |
| IT'S ALL FINE | Sarah Busic |
| IT'S ONLY DESERT OUT THERE | Nathan Dame |
| JINGI | Nicholas Pangilinan |
| JOYLESS | Ryan Manns & Jocelyn Manns |
| LIBERTY FALLS | Robert Attenweiler |
| M-CAP2 | Sarah Granger |
| MAGA - "US VS. THEM" | Elfi Martinez |
| MENOPAUSE BITES | Karen Bryson |
| MIDDLE AGE: "VILLAGE IDIOT" | Myles Hewette |
| NIGHTINGALE | Dhruv Kanungo |
| NO THANK YOU | Brittany Kelly |
| NOT OBSESSED | Ava Feneberger |
| PANSY CRAZE | Sam Josephs |
| PCN - "THE GENERAL" | Rayna Helgens |
| PRIVILEGE | Oliver Silver |
| QUAINT | Eoghan Heneghan |
| RNWY | P.A. Lopez |
| RUBBERNECKER | Varun Raman & Tom Hancock |
| SAVANT | Johnny Gilligan |
| SHARPES ON MADISON | Vikas Bandhu |
| SHERWOOD | Amanda Prentiss |
| THE DEVIL'S ACRE | Eric Hiss |
| THE EAST RUTHERFORD OUTFIT | Christopher Peplin |
| THE GREAT BRIDGE | Samantha Silvay |
| THE GROWTH | Samantha Clay |
| THE SQUIRE | DaManuel Richardson |
| THE UNDERGROUND | Anika Shakir |
| THE UNORDINARY | Justin McLachlan |
| TIERRA PAZ (A PACIFIED LAND) | Eugene M Santiago |
| UNDERTOW | Elena Perez |
| UNPLANNED | Scott Peterman & Cat Davis |
| WHAT HAPPENED TO MARY | Niyanta Gamble |
| WITH FRIENDS LIKE THESE | Matt Epstein |