Image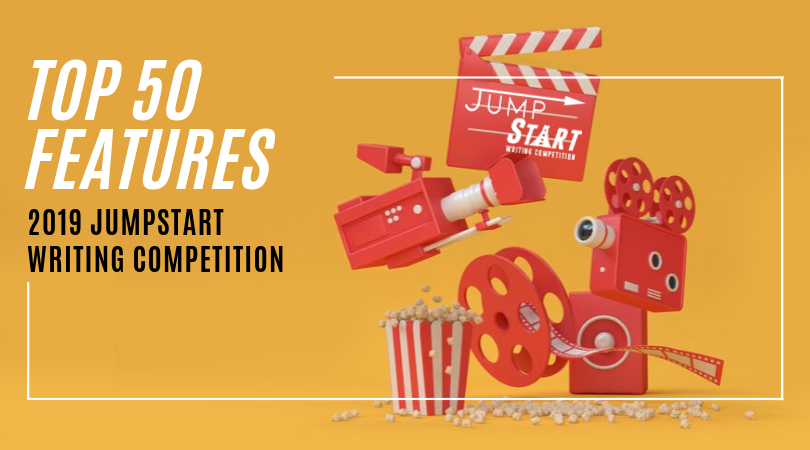 Top 50 Features - 2019 JumpStart Writing Competition
Roadmap Writers is excited to announce the Top 50 features for the 2019 JumpStart Writing Competition.
The scripts from this year's competition spanned every genre under the sun and moved readers to feel a wide range of emotions. We laughed, we cried, and sometimes even had to sleep with the lights on.
JumpStart leverages the reach and resources of Roadmap Writers to advocate for these talented emerging voices and put their work in front of dedicated and hungry industry professionals. This year's judging panel includes execs and reps from companies such as Echo Lake, Good Fear, Circle of Confusion, MGM, Lit Entertainment, Zero Gravity, and many more.

So while we still have a several weeks until we announce our Grand Prize winners in November, we just wanted to take a moment and say thank you for being a part of this year's competition.
And now we're pleased to announce the...
Top 50 Features
| | |
| --- | --- |
| 4F | Douglas Berg |
| A GENTLEMAN OF GOOD HOPE | Christina Hulen |
| BEACON | Nate Ruegger |
| BEANSTALK | Aarthi Ramanathan |
| BINGE ON | Gabriel Marinho |
| BLOOD LAW | Keith and Cassie Hayasaka |
| BREAKDOWN | Jesse Keller & Evan Muehlbauer |
| CHÓ | Jon Shaivitz |
| COMFORT WOMAN | William Andrews |
| COMPANION | John Darbonne |
| DAISY IN THE WATER | Haris Leventi |
| DEAD DON'T SPEAK | Christian Lybrook |
| DEAD, BUT WHATEVER | Boris Coll |
| DOMAIN UNKNOWN | Emily Johnson |
| EXCAVATED | Dashiell Finley |
| FOURTEENERS | Lauren Matsuda |
| GIRL TROUBLE | Devi Snively |
| HAG | Jamie Harbinson |
| HARM'S WAY | Ted Campbell |
| HOLLOW CODE | Chas Fisher |
| JUDGMENT TREE | Gary Parker |
| JUDY STARDUST | Mads Feldballe |
| L.A. IS BURNING (A LOVE STORY) | Josh Katz & Josh Thorud |
| LADY LAZARUS | Sheridan Watson |
| LET NO MAN TEAR ASUNDER | Kurt Schau |
| LIBERTY STREET | Sheila Barnes |
| LIFE UNPLUGGED | Kelly Kurowski |
| LIKES | Adam Williams |
| MEN IN THE WATER | Kathleen Caslin |
| ODDS & ENDS | Alexandra Timmer |
| ON THE EVE OF EPIPHANY | Despina Moraitou Politzi |
| ONLY A CHANGE OF WORLDS | Vijay Ilankamban |
| PROJECT HUMBUG | Justin Carter |
| RETURNED | Jennifer Grand |
| SLATER BERRICKS IS A DEAD MAN | Paul Ashton |
| SOUTH SIDE GIRLS | Edith Rodriguez |
| SPACEMAN | Greg Price |
| SUBCITY | William Zide |
| THE CLEANSING | John Kennedy |
| THE HAVANA HEADLINE | Martin Cooke |
| THE NATURE OF POWER | Tanya Klein |
| THE ROAD LESS TRAVELED | Michael Simons & Rease Rudick |
| THE ROYAL NONESUCH | John T Gross |
| THE SECOND BEAST | Deirdre Patterson |
| THE WILD HEART OF ALASKA | Mary Albanese |
| THE WOLF OF BEDBURG | Jennifer Grand |
| TRAPPED | Martin Blinder |
| WE HAVE A SITUATION | Justin Horowitz |
| WILLFUL BLINDNESS | Barbara Nunberg |
| WORLD CUP MOUSE | Richard Seidman |