Image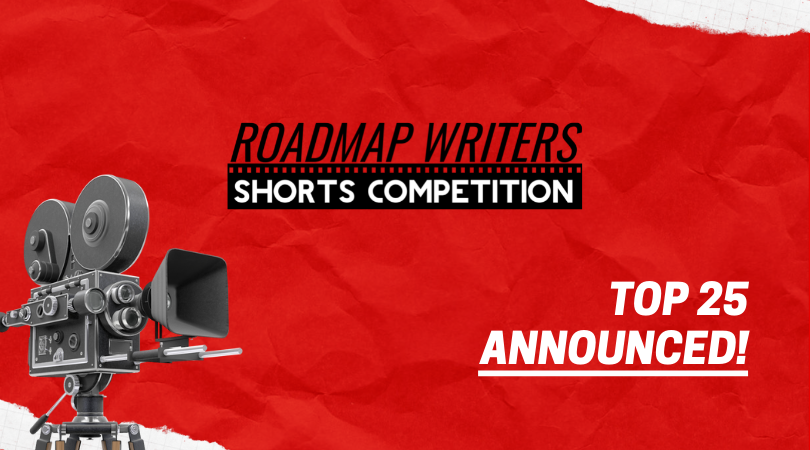 Top 25 Semifinalists - 2023 Shorts Competition
Roadmap Writers is excited to announce the Top 25 Semifinalists for the 2023 Shorts Competition!
Open to both written and filmed shorts, the entries spanned a variety of genres and presented stories on both a personal and global scale. Stay tuned as we continue to announce how these impressive contenders advance toward our Grand Prize.
And now we're pleased to announce the...
TOP 25 SEMIFINALISTS
WRITER(S)

CHAT

Kim Hornsby

CHECKMATE FOR LIFE

Deborah Harris

DISCONNECTED

Robin Farmer, Michael Williams

HELPER

Sage Wells

HOTWAVE

Jared Fembleaux

JANUARY 14TH

La'Chris Jordan

JINX

Joseph Lee

KOREAN AMERICAN 

WITCHES SOCIETY

Jennifer Kim

MEMENTO MORI

Stuart Creque

NIGHT OF THE BRIDE

Virat Pal

NIÑO DE VIDRIO 

(CHILD OF GLASS)

Gerardo Maravilla

OBSERVATION ONLY

Jeff Cochran

ONE STAR

Jessica Jiji

OPTIONS

DA Everett

OTHERSIDE

Kristen Buckels

PICTURES ONLY

Charles Honeywood, Rachel Soland, & Kheirra Peggs

PLEASE DON'T WATCH THIS

YOU SHOULD REALLY GO 

OUTSIDE INSTEAD

Shaun Radecki

RETRIBUTION

Kate Chrisman

SPICES WITH VICES

Debbie Castanha

THE ASWANG

Matthew Sucher

THE DATE

Jody Ellis

THE LAST HURRAH

Mia Weinberger

UN VIOLON

JOANNE BELLEW

WADE IN THE WATER

Lynn Esta Goldman

WE ARE THE DEAD GIRLS

Kylie Boersma
Image