Image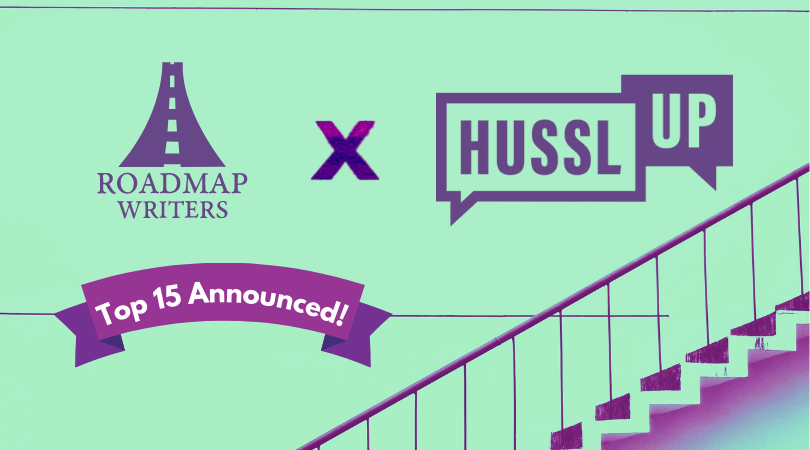 Top 15 Semifinalists - Roadmap x Husslup Competition
Roadmap Writers is thrilled to announce the semifinalists of our Roadmap x Husslup competition!
Loglines for each of the 15 semifinalists will be posted on HUSSLUP, a network that connects creative talent to each other and to the entertainment companies that need to staff them! If you are not a member, you can Download the app, and use the exclusive invite code 953556 to jump the waitlist and join today. Once you're in, tap on the banner at the top of the feed to go to the Competish channel. Each logline will have a dedicated post in that feed— you can LIKE your favorites to cast a vote for the winners.

You can also vote on Twitter - follow @husslup, and like the tweets with the loglines you want to vote for. RT and share so your followers can vote too! Search the hashtag #roadmapxhusslup to find your favorite logline.
Congratulations to our semifinalists, and best of luck in your next round!
Top 15
| | |
| --- | --- |
| Writer(s) | Script |
| Caroline Miller | HEMOVIGILANTE |
| Ruth Hanson | LADIES OF FORTUNE |
| Nerris Nevarez-Nassiri | DON'T FORGET: A NEW MUSICAL |
| Gabriel Malasig | AMERICAN RETAIL |
| Heather Ostrove | PROXY L-2 |
| Gina DeAngelis | THE KNOCKING AT THE MARSH |
| Jacobo Fe | HALSTED: BETWEEN PLEASURE & PAIN |
| Sarah Sheldon | TO THE DARK |
| James Starbird | HEARTLAND SOUR |
| Sam Robotham | The Wild Unknown |
| Frank Monteleone | KANDLESTICK MEN |
| Christopher Isenegger | FIVE WITH A BULLET |
| Fredrick Leach | THE HARD & SHORT OF IT |
| Sarah Mack and Josh Price | SHRINK RETREAT |
| Eric Rudnick | HOLD YOU SO TIGHT |