Image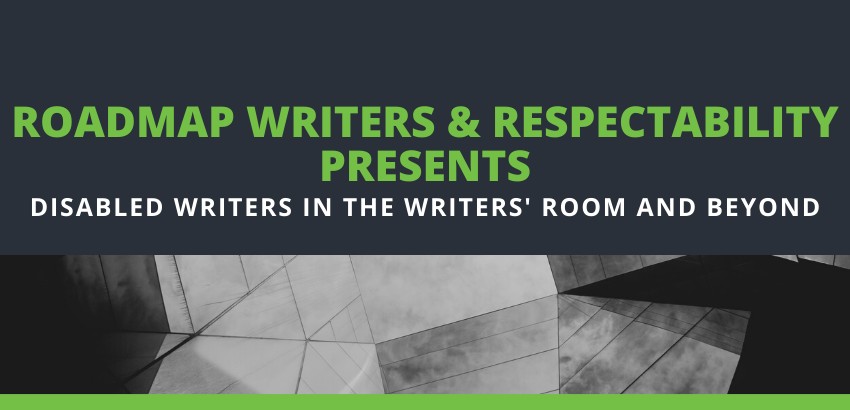 Panel Date: Saturday 10/23 @ 4:00pm PT 
---
October is National Disability Employment Awareness Month (NDEAM), and in celebration Roadmap Writers is proud to invite you to this special panel event in partnership with RespectAbility. 
RespectAbility is a diverse, disability-led nonprofit that works to create systemic change in how society views and values people with disabilities, and that advances policies and practices that empower people with disabilities to have a better future. Our mission is to fight stigmas and advance opportunities so people with disabilities can fully participate in all aspects of community. 
Just as no disabled person has the same life experience as another, there is no singular path to the writers room. For many people in the disability community, that path can often feel even more difficult to navigate given the historical lack of inclusion and accessibility in the Entertainment industry. That said, the industry seems to be at a turning point as more and more disabled writers are making their way into the writers room, and more decision-makers are beginning to understand the importance of improving the representation of disabled people both in front of and behind the camera.
Please join us for a conversation with our esteemed group of panelists, Diana Romero (4400), Marc Muszynski (Dexter), and Shea Mirzai (Space Coyote Productions) as they discuss their journeys and experiences as disabled writers currently working in the industry. Please RSVP via the link above, and continue to check back as more panelists are confirmed in the coming weeks. 
---
Speaker Bios 
Andrew Pilkington is a producer/writer living in Manhattan. He has worked for award winning directors such as: Alex Gibney and Morgan Spurlock. He is a graduate of the Harrington School of Communication and Media at the University of Rhode Island where he won the Film Excellence Award in 2014. He produced and co wrote the movie Best Summer Ever which is a feature musical staring actors with disabilities It was selected into the SXSW Film Festival 2020. It was awarded the Final Draft Screenwriter Award prize and is now available on Hulu. 
Diana Romero has worked in the film/TV industry for over 10 years and has won awards for her films and scripts. Diana worked in development at Lionsgate and Spyglass Entertainment at the start of her career. Additionally, Diana provided script consultation and coaching services via her own company as well as Scriptapalooza and Screenplaycoverage.com. Currently, Diana is staffed on the series 4400, a sci-fi show that will premiere fall 2021.
Marc Muszynski is a writer, comedian and DuoLingo Spanish attempter who, despite being visually impaired, once convinced someone to let him fly an airplane. He's written for Dexter: New Blood (Showtime) and Abby's (NBC) and developed projects with Sony, Disney and Endeavor. Before moving to LA, Marc toured the country performing comedy and eating BBQ. His videos for BuzzFeed, Funny or Die and Honest Trailers have over 40 million views. 
Shea Mirzai  is a first generation Persian-American and LGBTQ+ writer/producer as well as a four-time honoree of Franklin Leonard's annual Black List. Mirzai has written features for Will Smith and Overbrook Productions and Tucker Tooley of Tooley Entertainment. He is also Executive Producer of Nat Geo's ORIGINS: THE JOURNEY OF HUMANKIND. In 2019, after selling action-drama feature spec RUTH to AGC Studios and being hired to reboot the AMERICAN PIE franchise at Universal, Mirzai has launched Space Coyote Productions, a full-service production company in which he is the founder & CEO. A graduate of the University of California, Irvine with a joint B.A. in Film & Media Studies and African-American Studies, Mirzai combined the two into a unique program emphasizing Race & Representation. He cut his teeth in the film industry in glorious Hollywood, USA working for mini-major studio Relativity Media first as a Story Analyst and, later, as Head of the Story Department from 2008-2015. Mirzai is repped by Joe Riley at Zero Gravity Management and Chad Christopher at GGSSC.