Image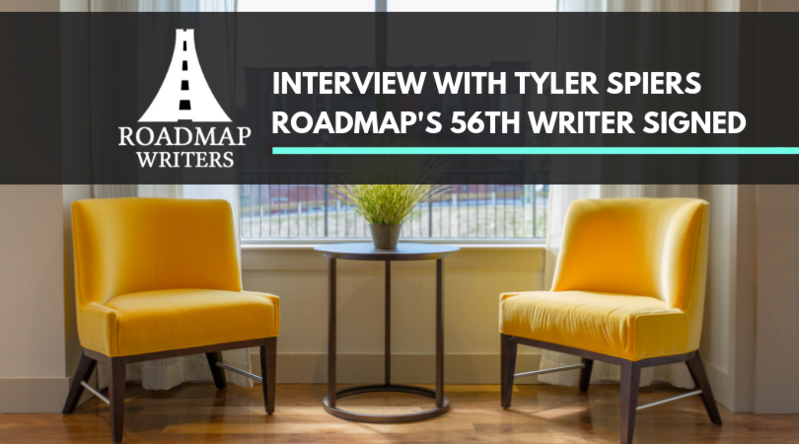 Last week Roadmap was thrilled to announce our fifty-sixth writer signed, Tyler Spiers! Tyler shared with us his screenwriting journey and how Roadmap Writers helped him connect with manager Adam Engelhard of Mailroom.

Roadmap: Congrats on getting signed AND staffed! Can you tell us a little bit about your writing background and how you got to this point? 

Tyler: Thank you so much, so happy to talk to you today. Here is the story of my writing background. When I was a twelve-year old kid growing up in farmland Connecticut, instead of working the farm, I wrote a hundred and sixty page comedic screenplay called Kidnapped and desperately tried to get my mother to send it over to to Steven Spielberg, something I think she actually did. So I was pretty much intent on becoming a writer one way or another.
After starring in several school plays and making countless VHS comedy videos as a teenager, I moved to Los Angeles and studied at The Groundlings with the hope I could get on Saturday Night Live as a writer-performer. Even though I had a pretty fantastic George W. Bush impression, alas, I did not get on SNL, so I joined Channel 101, a comedic film festival created by Dan Harmon and Rob Schrab, best described as a mini TV network where you make five minute serialized TV shows that a live audience votes on every month to determine if you get to make another episode... which if you win is due at the end of the next month!
It was an excellent training ground not only for writing, producing, directing, costuming, and craft servicing, but also a great way to network as it was filled with up and coming creators such as Justin Roiland, Randall Park, The Lonely Island and several others, so I was able to learn from and work with some pretty prolific talent. Two shows I made at Channel 101 got me noticed in Hollywood, including a live-action after school special ensemble comedy called Classroom and an animated series called Planet Unicorn.
From that point on I've worked in the digital, TV, and feature space developing, creating, selling, show-running, and writing a variety of content. Recently, I was staffed as a writer for WWE, which is a dream job for me as not only am I a huge fan of the WWE Network, but I'm also a former state champion wrestler who gets to work out of my home state of Connecticut, where the company is based.

Roadmap: Who are your writing influences? Whose work do you admire?

Tyler: My greatest influences would be Larry David and Jerry Seinfeld. I love the detailed minutia of every day life they write about and how they make even the smallest stories have such high stakes. To me and I'm sure to a lot of others, Seinfeld was the best comedy series ever created. Movies I love and can watch over and over again are Groundhog Day, Being John Malkovich, Goodfellas, Aliens, and Silence of the Lambs.

Roadmap: Other than getting signed and staffed, what's jazzing you right now (TV shows, films, books, podcasts)?

Tyler: For films, I just saw American Animals which was a very good and different take on the heist movie. Darkest Hour, Call Me By Your Name, and A Quiet Place were also some very well-written and beautifully made films I've seen this year. TV, I'm loving Better Call Saul, I really enjoy the way they are developing the Saul Goodman character, keeping us interested and surprised even though we already know who he ultimately becomes.
I am constantly re-reading a gem of a book called Daily Rituals which breaks down how various artists throughout history went about their daily life. The book tells you things like, "Charles Dickens woke up at 7am, had breakfast at 8am, and was in his study working by 9am. At 2pm, Dickens always took a vigorous three hour walk where he would work out the rest of his story inside his head. At 6pm, he would socialize with family and be in bed at midnight." Even though much of the book is like this, I find it riveting, mostly because I am addicted to schedules, lists, calendars and organization.

Roadmap: How did you discover Roadmap Writers?

Tyler: I asked a producer friend how a writer could find really solid representation. And when I say solid representation, I meant someone who would read my work, look at my career as a whole and map out a plan to be consistently successful. One of my frustrations up until I started taking courses at Roadmap was that while I have had success in the industry, I was never able to sustain that success and I think one of the reasons is because I didn't have the right advocate fighting for me. My friend recommended Roadmap Writers and I started taking courses.
The courses were really awesome not only because you get to hang out with fellow writers and develop your stories, but also because the executives, managers, and show-runners teaching you felt like friends and mentors, instead of executives, which can sometimes be intimidating and nerve-wracking, especially for someone who suffers from social anxiety like myself. Roadmap was super refreshing and helped me develop several projects to completion. One of the courses I took was with a manager named Adam Engelhard from Mailroom.
We hit it off, I sent him some of my work, he liked what he saw and I signed with him shortly after that. Adam turned out to be exactly what I was looking for...really solid representation. And also a really solid person, which is equally, if not more important. Thank you, Roadmap, for putting us together!
Roadmap: Thank you Tyler!