Image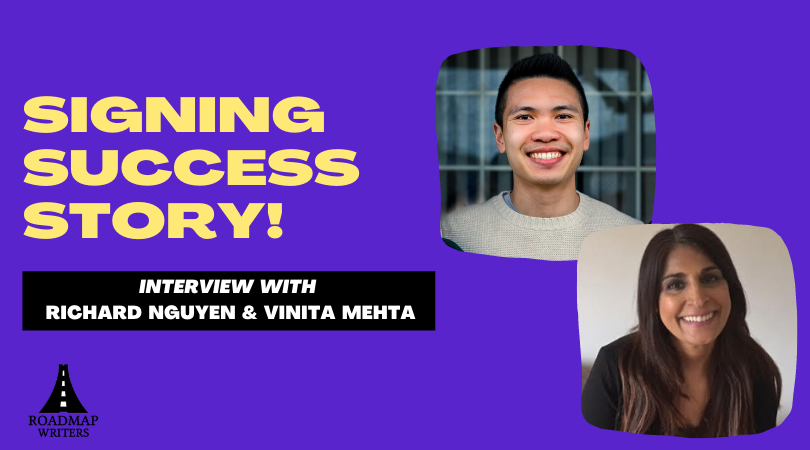 Congrats on getting signed! Tell us a little bit about your writing backgrounds?
Vinita: I always wanted to work with narratives. As a kid, I wrote radio and stage plays and as an undergraduate I interned at a local news station. I wanted to pursue film and journalism after college, but was destined to become a psychologist after surviving my traumatic childhood. Towards the end of graduate school, I decided it was the right time to pivot. While writing my dissertation, I took screenwriting classes at NYU School of Continuing Education and was later awarded a Mass Media Fellowship sponsored by the American Association for Advancement of Science, with Dateline NBC as my host site. That fellowship led to a ten-year career as a news and documentary producer, and I have since balanced writing with my clinical practice. Both screenwriting and psychotherapy involve storytelling in some form, and are both tremendously rewarding.  
Richard: My parents still have no idea what I do. A college screenwriting professor was actually the first person to ever tell me that my voice and story were worth listening to. That experience of working on my first full-length feature under his mentorship really set the tone for the rest of my writing journey. Five years and many scripts later, he still emails me about how he still remembers my feature and wants to see it on the screen. In times of doubt, I remind myself that if my words and characters could have affected one person that much, then why can't it do the same for many more people on TV one day? I started writing to be heard, but I keep on writing for the opportunity to both entertain and impact change at a scale only TV can reach.
You signed with Industry Entertainment. What was the process like? How did you know it was the right fit?
Coming out of the 2021 CAPE New Writers Fellowship helped tremendously in the process. But while it gave us the credibility and momentum to get our sample read, we still faced our fair share of rejections - reminding us that finding the right fit and someone who's truly enthusiastic about your work doesn't happen overnight. Patience and advice from peers and mentors helped us stay level-headed through almost two months of meetings. When we connected with Brandy Rivers at Industry Entertainment, we immediately felt her passion for our voices and alignment on what we wanted to accomplish together. We wouldn't have known that without the insight and perspective we gained from meeting with a number of other generous and talented managers. Each successive conversation was as rewarding as the last, and if it's meant to be it'll be!
    
How do you infuse your voice into your work?
As a team, we've learned to leverage our individual and often differing voices in our scripts. Whether through our generational, gender, or racial differences, much of what you see on the page is capturing real debates we have in real life. One character might speak more closely from Vinita's experience of being a psychologist while another might be more informed from Richard's experience in a small-time gang. Rather than try to assimilate our individual tones and sensibilities, we found that even more drama and perspective can be found in the clash between them. We like to think of it as productive conflict!
    
What matters most to you as storytellers?
Our immigrant parents lost their original homes in the Vietnam War and the Partition of India. For decades they've fought to build new lives in a country that's never fully accepted them, while suffering from invisible wounds and traumas they never had the opportunity to heal.
We want our stories to reach and communicate to immigrant parents like ours in ways that we, as their children, could never have done before. Good stories are universal and transcend any language or cultural barrier. If our stories can show a path to healing and acknowledge those who've been rendered invisible, then we will have honored our parents' sacrifices by asserting our belonging - that we're here to stay.
    
Who are your writing influences?
David E. Kelley! BIG LITTLE LIES (BLL), was a major influence for us as we formed our writing partnership and wrote our first script together, AMERICAN PSYCHE. Our script follows three wounded women who are in search of healing and wholeness in their own ways, as are the characters in BLL. We looked to BLL as a model of how to portray strong women coping with trauma, and whose storylines effectively braid together as the action unfolds.
Mike Flanagan, the multi-hyphenate showrunner-director behind THE HAUNTING OF HILL HOUSE, blows us away by how he uses horror to unpack concepts such as grief, mental illness, and generational trauma. As psychologist-writers, we're passionate about using storytelling as a medium for healing and aspire to explore similarly complicated characters and invisible wounds through genre stories of our own.
    
Other than getting signed, what's jazzing you two right now?
Richard: Eating at a full dinner table - both at home and at restaurants. I realized I'd taken it all for granted after a year of solitary meals while talking with a full mouth at my phone screen. With the world reopening and our society returning to some normalcy, I'm most excited for my dinner table to become that sacred, universal place for connection, potlucks, and proper beer pong again.
Vinita: After more than a year of having my computer screen serve as a portal to the outside world, I'm excited to travel again. I love discovering new worlds and meeting new people. I watched a lot of online tours during lockdown, but it's no substitute for the real thing. Right now I'm absolutely obsessed with Nordic Noir television - it helped me through the pandemic. As a result, I've become so fascinated with the region that Scandinavia is the next major travel destination on my list.
How did you discover Roadmap?
We were directly referred to Roadmap by another writer who also signed with a manager through the AAPI program. What was remarkable about Joey and his team is that they never acted like gatekeepers. They thoughtfully sent us out with confidence and faith that someone would resonate with our work. That's the type of energy and support our writing community needs!