Image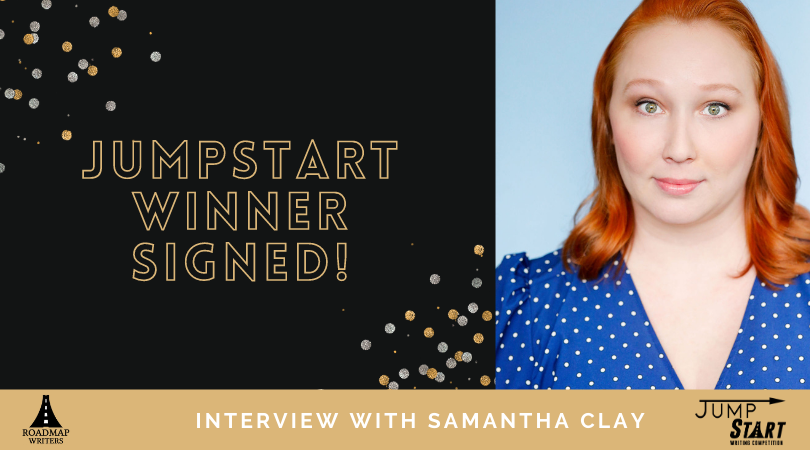 Congrats on getting signed! Tell us a little bit about your writing background.

I started writing in college by taking several playwriting classes. When I first moved to LA, I wrote comedy sketches to further my acting career. I'd perform my pieces at iO West and the Groundlings, which then evolved into making web series with my sketch groups: Bitch Please Comedy, Loud Noises, Inc, and Bowl Cut Comedy. Then, I decided to try my hand at writing full length pilots and features. A year and three pilots later, I find myself in this whirlwind of opportunity and am so thrilled!

You were a JumpStart Grand Prize winner for your pilot, THE GROWTH. Can you tell us a bit about your experience and why this competition stood out to you?

I love that Roadmap Writers is focused on education and advocation for writers. There is so much of the business side of writing I wanted to learn, and Roadmap's curriculum is great for that! I loved that the prize was opportunities to put my work out there and more importantly, learn from it.

We know you still have more meetings coming up, but can you tell us a bit about the meetings you've had so far?
The meetings I have had so far have been really great; I've met some amazing people. Also, I was signed by a manager because of one of those meetings! Not too shabby! I am beyond grateful for the connections Roadmap Writers has helped me make thus far.

Finding the right rep is such an important part of the process. Can you tell us what your meeting with Zero Gravity was like and how you knew it was the right fit for you?

I knew it was right because it felt effortless. I felt like I could be myself and not 'try' so hard like I had in other meetings. They seemed to get me right away, and we were on the same page for where I wanted my script, and my career, to go. It just seemed like a no-brainer.

Who are your writing influences? Whose work do you admire?

I admire Aaron Sorkin very much and love all he does (I'm the nerd who quotes the West Wing in general conversation), but I'm nothing like him. I am influenced most by female comedy writers. Phoebe Waller-Bridge is obviously a favorite, Mindy Kaling and Tina Fey as well, are huge inspirations! I love dark comedies, such as, my favorite show of all time: Bojack Horseman, which has influenced my writing quite a bit.

Other than getting signed, what's jazzing you right now?
I have a couple upcoming meetings with Production companies who have enjoyed my script The Growth, and I am very much looking forward to those. I'm also currently into my month mentorship offered by Roadmap, and I'm really excited about editing and polishing my other projects with my mentor.