Image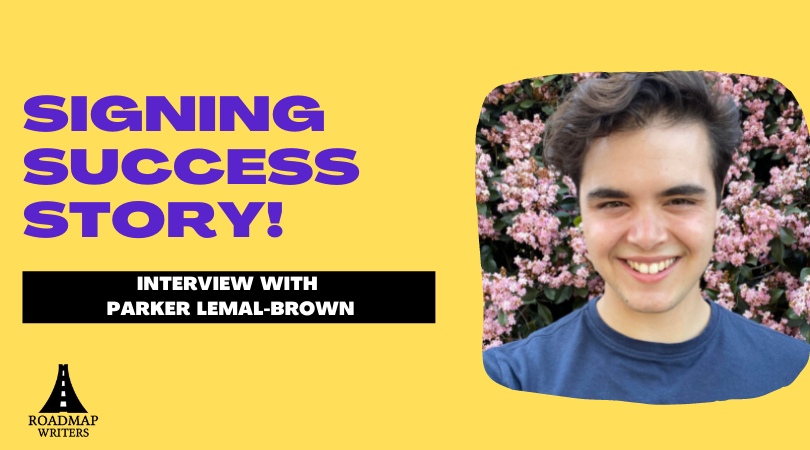 Tell us a little bit about your writing background. How did it all begin?
I've been writing most of my life, starting with a half-baked werewolf novel I wrote in middle school. I read my first TV script when I was 15, which hooked me on screenwriting. My whole family is obsessed with pop culture, but I've always wanted to know how everything is made. I wrote a couple of angsty pilots as a teen, but I stopped writing for several years because I wanted to be a doctor (ironically, because of Grey's Anatomy). I studied neuroscience and sociology in college, but got back to writing through slam poetry and theater, before returning to TV. I used to think that writing wasn't a "real" career or could help people, but it's always helped me in my own life. I had a hard time speaking as a kid, so writing gave me a way to express myself that I still use today.
You just signed with Kaplan Perrone. How did that come about?
I applied to the Roadmap Support Staff Initiative. I had just gotten hired as a Showrunner's Assistant, so the timing worked out perfectly! I spent most of this year applying to contests, but none of them had panned out before Roadmap. Joey Tuccio at Roadmap liked my script, he sent out the logline and my bio to different managers. Ben Neumann at Kaplan Perrone read my pilot and reached out for a meeting, which is when I officially signed with him and Hannah Ozer.
What are you most looking forward to about working with your rep?
I'm really excited to have new guidance creatively, as I keep developing my writing and voice. Reps have a birds-eye view of the industry and a unique perspective that is different from other writers and friends who usually read my stuff. I was looking for managers who don't just care about selling one script, but want to work with me to craft a sustainable career. Having reps is also a huge step in terms of access, because now my scripts can be circulated in more exclusive spaces I couldn't get into on my own. I'm looking forward to more doors opening up, especially as a queer trans writer.
As a storyteller how do you infuse your voice into your work?
I'm still figuring out my voice, honestly. I first noticed it by finding patterns in what I've liked to write in the past. I write a lot about memory, identity, and sense of place, because those elements constantly change in my own life. I use writing to explore questions I can't answer for myself yet, or might not have any easy answers at all. Before a new project, I try to check in with myself on what I love, what I'm scared of, and what I care about in that moment. Every script has some nods to other shows I love, people that I know, and real-life stuff that's happened to me. It's definitely an ongoing process, both figuring out who I "am", and how to express it in a way that resonates with others.
Who are your writing influences?
I'm a huge fan of Phoebe Waller-Bridge and Michaela Coel - not only are they brilliant writers AND actors, but they both can cross genres so beautifully and create breathtaking scenes. Lin Manuel-Miranda is the reason I went back to writing in college. His "chess not checkers" mentality is a big influence on my own work, that attention to detail.  He is incredibly intentional with his words and structure while being so open about his creative process, which helped me become a better writer. Playwrights-turned-showrunners / directors Gloria Calderon Kellett, Tanya Saracho, and Leslye Headland are all massive inspirations to me. They know how to create specific worlds with the intimacy of black box theater and the cinematic lushness of film. Finally, Norman Lear and Shonda Rhimes showed me how TV can have historic social impact, which reminds me how powerful writing can be.
Having reached this new milestone for your career, what is one piece of advice you know now, that you would tell yourself when you first started out?
BE GENTLE ON YOURSELF. Everyone says it's a marathon, which is true - but it's a marathon of sprints. Take a breath and take care of yourself. No job or script will ever be as important as your well-being. Trust your gut. You can still get to where you want to go by being gentle and patient with yourself and other people. Honestly, it's the only way to get there in one piece.
How did you first discover Roadmap?
I first found out about Roadmap when I applied to their LGBTQ+ writing initiative earlier this year. I also recently started working with Roadmap as a script reader / pitch consultant through a connection from a friend. Honestly, it can be tricky to find contests that truly help writers, when some can be exploitative or misleading. I've had a great experience with Roadmap, on both sides of the table. They really care about lifting up writers and that can make all the difference.