Image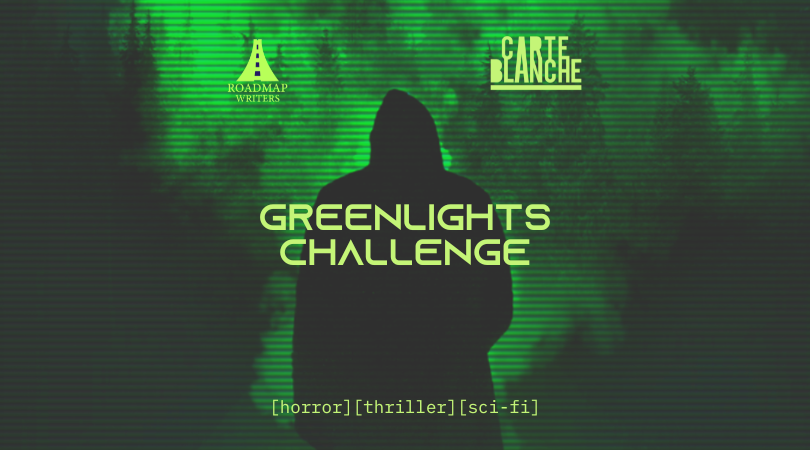 Roadmap Writers and Carte Blanche are excited to announce the semifinalists for our Greenlights Challenge. 
This screenplay challenge was open to original, character-driven, high-concept, elevated horror, thriller, and sci-fi feature-length screenplays that can be cinematically told within a six-figure budget. These promising 50 scripts will be moving forward for option consideration.
Please join us in congratulating the...
Top 50 Scripts
| | |
| --- | --- |
| Script Title | Writer(s) |
| A Good Man | Kelly Nugent |
| A Grave For One | Tommy Cook |
| A Tale Of Us | Sean Ryan |
| Bad Vibes | Cynthia Mersten |
| Body Farm | Nicole Jones-Dion |
| Boxed In | Michael Rogers |
| Breather | Barry Staff |
| Child | Giovanni Labadessa |
| Cracked | Lou Peterson and Philip Pierce |
| Custodial Clearance 10 | Rhett Wellington Ramirez |
| Cut | Dylan Visvikis |
| Demolition | Oli Gledhill |
| Entanglement | Nicole Delprado |
| Expecting | Jonathan Dillon |
| Fates | Roz Mihalko |
| Flatwoods | Jason Goldberg |
| Fugue | Willo Johnston |
| Future Tripping | Brian White |
| Highway 83 | Anthony Rainone |
| House of the Deaf Man | Henry Harper |
| I'll be Seeing you | Ari Jacobson |
| Infinite Monkey | Laura Kindred |
| Keeper | Richard Martin and Brandan Dennehy |
| Mama | Austin Everett |
| Moon Presence | James C. Williamson |
| Ominous | Bryan Way |
| Phoebe | Jason Allen |
| Purgatory Station | Phillip Hardy |
| Rappacini's Daughter | Kat Bosworth |
| Room Zero | Jason Partridge |
| Sdrawkcab | Victor Grippi |
| Self Storage | Robert Walcott |
| Sheep | Jack Ebstein |
| Shelter from the Storm | Nathan Patton |
| Spirit Paper | The Embers Bros. |
| Synthetica | Phong Le |
| The Caregiver | Zach Drummer |
| The Cutting Room | Liam Kavanagh |
| The Farm | Adam Nelson |
| The Knocking At the Marsh | Gina De Angelis |
| The Long and the Short | Julie Fergus |
| The Lookout | Jeff Kaminski |
| The Mysterious Disappearance of Anya Sherwood | Najla Al-Doori |
| The Process | Nathaniel Shriver |
| The Rift | Brandon Botta |
| Three Names | Ilisa Aaron Parrish |
| Transient | Stéphanie Joalland |
| Universa | Michael Wright |
| Velvet Skins | Jared Januschka |
| Wolverine | Pontsho Segodi |