Image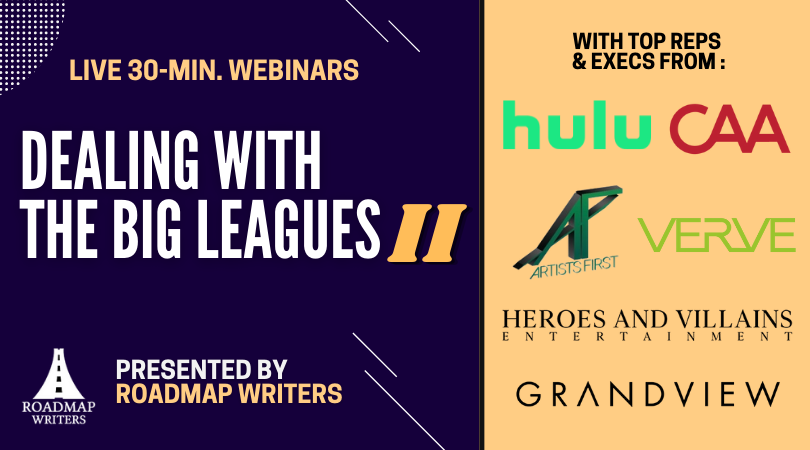 30-Minute Live Q&A Webinars in September!

Roadmap Writers is excited to present Dealing With The Big Leagues II webinar series!
Join us throughout the month of September as we chat LIVE with some of the industry's most impactful agents, managers, and executives. The Dealing With The Big Leagues series will focus on different parts of the industry including: streamers, intellectual property, representation, and the development process.
Guests include reps and execs from Hulu, Artists First, Heroes & Villains, CAA, and more. Scroll below to see dates and times.
All sessions will be recorded unless otherwise noted, so even if you can't attend a live broadcast, you can still register to receive the recording after.
This webinar series is also made possible by the Animal Rescue Mission who has helped rescue hundreds of animals from around the world. Please visit the Animal Rescue Mission to make a tax-exempt donation or see available dogs and cats looking for a loving home.
Our 6 Guests Include
Image

September 7th at 5:00pm PT
E. Brian Dobbins has been a highly esteemed Talent/Literary Manager and Producer at Artists First for the past 21 years, where he now serves as Co-President.

He began his career at UTA and subsequently left to work in development at HBO Pictures. His experiences at UTA and HBO led him to discover the vital necessity of managers in relation to their clients, and decided to pursue a career in talent and literary management. In 2000, he joined Artists First, where he's been ever since.

At Artists First, Dobbins has expanded his management career to also include producing. His television producing credits include ABC's MIXED-ISH, Fox's TV series DO NOT DISTURB, the Oxygen cable network series CAMPUS LADIES, and ABC and 20th Century Fox's TV pilot ADOPTED. Some of his film producing credits include THE SEA OF TREES starring Matthew McConaughey and directed by Gus Van Sant, Netflix's BEATS, directed by his client Chris Robinson and starring client Anthony Anderson. Dobbins currently serves as an Executive Producer on both the critically-acclaimed ABC series BLACK-ISH, created by client Kenya Barris and starring clients Anthony Anderson and Tracee Ellis Ross, as well as its Freeform spinoff GROWN-ISH.

In addition to Barris, Anderson, Ross and Robinson, Dobbins' ever-growing roster of A-list clients includes Martin Lawrence, Niecy Nash, Nicole Beharie, director Jon M. Chu, director Gerard McMurray, Oscar-winning writer Nat Faxon, writer/producer Tracy Oliver, and writer, producer Stephanie Allain. Dobbins is executive producing the upcoming CHEAPER BY THE DOZEN remake alongside Barris (who also co-wrote the script), which is currently in production.
Image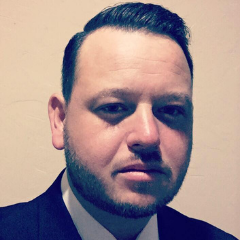 September 9th at 6:00pm PT
Mikhail Nayfeld is the co-founder and president of Heroes and Villains Entertainment. Founded in late 2007, HVE is one of Hollywood's premier Lit Management companies representing storytellers working in every field of entertainment. From Televisions Showrunners, to Comic Book creators from Best Selling Novelists to Feature Film Screenwriters, from Playwrights to Social Media Influencers, the team at HVE prides themselves on identifying transcendent voices wherever they may originate, and excels at helping them cultivate their unique storytelling skills and deliver their work to audiences in all formats. 
Mikhail is a graduate of Cal State Long Beach, with a bachelor in Film and Electronic Arts. He spent four years working at International Creative Management (ICM) specializing in identifying packaging and selling Intellectual Property and working with some of Hollywood's premier talent. He left to found the Television division at Mandate Pictures (The Grudge, Juno, Harold & Kumar), before joining his partners in founding HVE. In 2020, he added Producer to his resume with the soon to be released horror film, Lullaby. Above all else, he has a passion for storytelling in all forms.
Image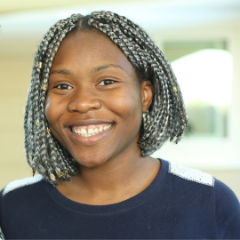 September 14th at 6:30pm PT
Rukayat Giwa (she/her) is a Television Scripted and Books Agent at leading entertainment and sports agency Creative Artists Agency (CAA). Giwa is based in the Los Angeles office and represents many of the world's leading writers, directors, and authors. Giwa began her career teaching high school math through Teach For America in Metro Atlanta. She joined CAA in 2017. Giwa graduated from the University of Southern California with a degree from The Peter Stark Producing Program.
Image

September 15th at 2:00pm PT
Liz Parker packed up her life in New York and moved to Los Angeles to launch Verve's publishing division, where she continues to bring books to the forefront of Verve's conversations. Under Parker's leadership, she has signed clients who had never written a book, turning them into published authors with multiple titles now under their belts. She has also successfully transitioned many of her clients to screenwriters, working closely with the television and motion picture teams. Parker continues to be a valuable asset to Verve in guiding their non-publishing clients to explore new media opportunities with books and expanding Verve's business into the ever-popular podcast arena.
As one of the few book agents on the West Coast, Parker is also a published author, having previously written for the New York Times 'Modern Love' column, and her debut novel ALL ARE WELCOME was released to acclaim in August 2021 by Lake Union Press.
Prior to Verve, Parker was a literary agent at InkWell Management and, prior to that, the publishing director of Counterpoint and Soft Skill Press in Berkeley, CA.
Parker works with Susan Fowler (Whistleblower), Emmy-Award winner Leah Remini, singer and songwriter Aimee Mann, NAACP Award winner Nia Long, Sarah Edmondson (Scarred, The Vow), NYT bestselling author Mikki Daughtry (Five Feet Apart, All This Time, The Curse of La Llorona), Kristen Meinzer & Jolenta Greenberg, NYT bestselling author Gaby Dunn (Bad With Money), Harrison & Matt Query, Dan Jones (The Report) and economic editor Brendan Greeley.
Image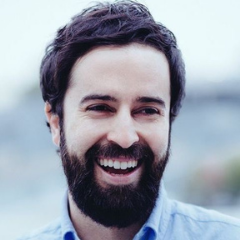 September 29th at 6:30pm PT
Jeremy Platt has gone from working as a screenwriter, creative executive, and film festival programmer to being one of the most accomplished literary managers and producers in film + television with a focus in high end genre. Platt has produced projects such as Sundance Midnight film The Violent Kind; Blumhouse's The Lords of Salem; WGA Award-winning Greg Nicotero directed The Walking Dead webisodes for AMC; and most recently Netflix's Fear Street.
Platt formed his own management + production company, Plattform, in 2014 and had a first-look deal at Amazon. It was with AMC that he executive produced his straight to series SundanceTV show Hap and Leonard which ran for 3 seasons and ended as the most watched show ever on SundanceTV.
In 2018, Platt shuttered Plattform to become a partner at Grandview/ Automatik, one of the premiere creator focused production and management companies in the industry. He represents an incredible list of prestige genre and auteur filmmakers, as well as a roster of screenwriters, including Adam Wingard, director of the blockbuster Godzilla vs Kong, and Jim Mickle, the creator, showrunner, and director of the Netflix hit series Sweet Tooth.
Image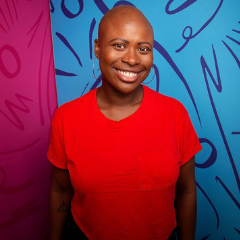 September 30th at 2:00pm PT
Kelci Parker serves as the Senior Manager of Comedy Originals at Hulu.  After graduating with a degree in screenwriting from the University of Michigan (GO BLUE!) she moved to Los Angeles with aspirations to write. Through an alumni connection, Parker landed a job at Dickhouse Entertainment and started her career as a writers' assistant on the Adult Swim comedy, Loiter Squad. She then went on to work for director Spike Jonze on his Oscar winning film Her and the 4th installment of the Jackass movies, Bad Grandpa.
After two years on set and in writers' rooms Parker decided she no longer wanted pursue writing, but instead to help others find success through creative development. This led to her move to Comedy Central in 2014, where she was the executive assistant for company president, Kent Alterman. Then working her way up to Director of Talent & Development, specializing in scripted narrative and animation. In her tenure at Comedy Central, Parker helped to launch the Comedy Central Animated Shorts program and oversaw projects such as South Side, Robbie, Malltown, Meaty, Legends of Chamberlain Heights, Hood Adjacent w/ James Davis and many more. With a passion for mentorship and developing underrepresented voices, Parker also ran point for the emerging directors' program (ViewFinder) and Comedy Central's internship program.
Having recently started at Hulu, Parker is expanding her purview at the streamer through upcoming projects, Only Murders in the Building, starring Steve Martin, Martin Short, and Selena Gomez, and Life & Beth with Amy Schumer.